Buying a second hand MGF or TF

Words and pictures: Rob Bell

Last Update March 2013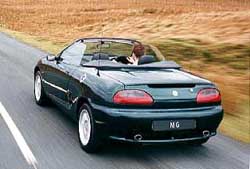 If you are looking at this page you probably already have some very good reasons of your own as to why you should buy one of these innovative MGs. You know what? You're right, both the MGF, and it's snazzy face-lifted successor, the TF, are fantastic little cars. I bought my first one in January 1996, just a few months after the MGF's launch, and I still have that same car today. It's great!
MGF - F for Fun and TF for Terrific Fun!
The MGF and TF are very practical and enjoyable two-seater sports cars. For a design that places its engine in the middle, there is a large, commodious boot compartment, space behind the seats and further storage under the front bonnet (so long as you don't mind that luggage being exposed to the elements).
To drive, the MG generates superb levels of grip and is very responsive to steering inputs - and as such makes a fantastic track day car (it will therefore come as little surprise to find out that the founders of MGs on Track, the MG track day community, were all owners of MGFs!). In addition, the MG also rides superbly well, meaning that these cars are equally comfortable on the race track as they are on the highway, belting across continental Europe.
The hood is superbly easy to use: twin catches released, and the roof can be simply thrown back - and off you go. That you can then raise the roof without having to get out from your seat (just reaching back and pulling the hood back up) marks a contrast of sports cars of yore: these hoods are very easy to live with. Other contrasts also exist - not least that the car is effectively water tight (see notes below), and that there are glass rear screens available with heater elements for all year visibility - an attractive retro-fit to all cars.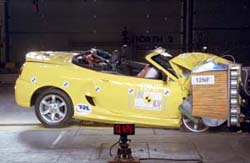 Class leading Euro NCAP scores for occupant and pedestrian safety no doubt contributed to the MG's sales success
Safety and safe ownership
Despite this being a design from the 1990s, the MGF/TF is an extremely safe vehicle - both for the occupants and for pedestrians. The Euro NCAP gave the MGTF class-leading scores for occupant and pedestrian safety thanks in no small part to the large front crumple zone: the engine being behind the driver meaning that there are no nasty chunks of metal (otherwise known as an engine and gearbox!) to get in the way of energy absorbing deforming structures.
Despite the collapse of MG Rover in 2005, parts availability remains excellent. And because this is an MG, I have every expectation that parts availability will continue to remain excellent - as is the case for the MGB and Midget forbearers.
In the UK, thanks to the massive success of the MGF and TF - both cars being the top selling roadster in its class from launch in 1995 through to the end of production in 2005 - means that there are plenty of MG Rover era cars to choose from, and at attractively low prices (a good early MGF can now be had for less than the third of a price of a good 1960's Midget for example). Later NAC/ SAIC-era cars sold less well and are rarer as a result - but may be worth seeking out for the extra specification these cars offered.
Which MGF/TF?
Before we move on to what to look at when viewing a particular car, it is probably worth considering the range of cars that are available. I bet you thought that the range was nice and simple? Well, yes and no. There are MGFs and the later TFs of course. There are three engine options: 1.6, 1.8 and 1.8 VVC (all are twin-cam 16-valve "K-series" engines). There are two transmission options: 5-speed manual (PG1 gearbox) and CVT semi-automatic (a ZF unit shared with the R50/R52/R53 BMW Mini).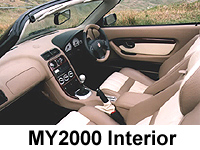 When looking at MGFs there are the early, "Mk1" 1995-1999 cars and the later "Mk2" or "MY2000" (MY standing for Model Year). The later cars benefited from a more luxurious interior. This later type interior would continue essentially unchanged other than for colours and a few finishes through to the end of production with the Chinese-era cars.
MGTF Sports Pack Options:
Sports Pack 1
10mm lowered & up-rated suspension
Sports Pack 2
ABS, uprated front disc brakes and callipers, 16" 11 spoke alloys, IMS
Sports Pack 3
ABS, uprated front disc brakes and callipers, 16" Ultra lightweight alloys, IMS
ABS=Anti-lock braking system; IMS=Instant mobility system (i.e. no spare wheel, but a can of goo to re-inflate the deflated tyre)
When looking at TFs, note that they were originally available with a number of different "Sports pack" packages (offering larger front brakes and wheels, plus, with SP1, lowered suspension - see table above) and the last of the MG Rover era MY2005 vehicles, offering much improved ride through softer springs, re-specified dampers and thicker anti-roll bars. These last of the line TFs also have desirable glass windows in their soft tops.
And then there are the Chinese era TFs, with their attractively re-styled front bumpers - but limited to the single 135PS engine/ manual transmission option. But despite that, the cars came with a high specification with the LE500 and had an attractive sticker price when new.
The special and limited editions!
So that's the basic model chronology briefly covered. But then there are all the special and limited edition MGs which mushroomed following BMW's disposal of Rover Group in 2000. MG Rover's sales department became particularly adept at developing these, with typically at least two new factory special editions released every year...
So just to confuse you - here is a picture montage of the various official factory limited and special editions (read more here):
You'd not be surprised to hear that there were more dealership promotions and "special editions" to compliment these - so actually yes, you'd have good reason to be confused! Are these special editions worth seeking out? The LE and SE models invariably came with better trim specifications, so yes, these are perhaps looking out for - particularly if you fancy a car in a rare colour/trim combination. Largely however, these cars were really marketing exercises - and their values are probably not vastly greater than the standard cars on which they are based - although the anniversary editions (75 and 80) are sought after, as are the early Abingdon LEs for their leather and unique colour combinations.
The two exceptions to the LE/SE rule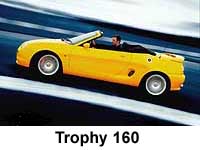 There are perhaps two exceptions to the LE/SE rule - the MGF Trophy 160SE and the TF 85LE. These two special editions, unlike all the others, offered a unique mechanical specification.
The MG Rover celebratory MGF Trophy 160 SE came with an up-rated 160PS VVC engine (which was later adopted and standardised for the TF160), the first appearance of AP Racing front brakes and up-rated suspension specification. I suspect that the Trophy 160 will become the flagship collectors' MGF in years to come, so be wary of imitations or similarly styled MGF Freestyle SEs being palmed off as the higher specification 160.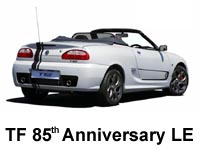 The NAC/SAIC TF 85LE is probably the greatest swan-song for the mid-engined MG. While like all the Chinese era TFs it offered just the 135PS N-series engine specification, it had an optimised chassis and is widely regarded as the best handling of all the MGF/TF variants. For this reason alone, it is a model worth looking out for.

Anything else I need to consider?
I could over burden you with nerdy facts here, but there are two other significant watersheds to consider when looking at the MGF/TF range when buying: the change points of electrical architecture and the introduction of the PRT thermostat.
Electrics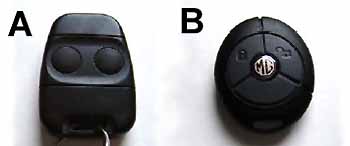 There are three electrical wiring systems found in MGFs and TFs. The first two versions - found from launch to around mid-2003 are largely bullet proof (note problem areas below), but the post 2003 systems can cause problems. The later system is readily identifiable by the appearance of the remote central locking fob. The earlier, reliable Lucas system (bet you never expected to see "Reliable" and "Lucas" in the same sentence eh? - Ed) has a rectangular fob with two round buttons for lock and unlock. The later Pektron-based system as a round fob with an attractive MG logo at its centre.
The 2003 Paradox
The 2003 system up-grade brought with it good and bad news. The good news is that the Pektron-based system brought with it new functionality - extra, nice features that were installed at the time when the cars were originally manufactured, or can be subsequently "unlocked" by someone expert in programming the more flexible Pektron body-control unit (BCU). Unfortunately the Pektron Security Control Unit (SCU) - which is incorporated within the BCU - has an unfortunate propensity to burn out its relays - leading to failure of horns, windows, wipers etc etc. Fortunately these units can be repaired, but special attention should be paid when buying to ensure that all electrical functions function as they should.
Other up-grades to the specifications also included the standard-fitment of ABS to all models (it had been an optional extra on the TF135 up until this point), and the TF135 also had an engine control unit re-calibration meaning that the engine's CO2 levels dropped sufficiently for these cars to qualify for a lower tax band...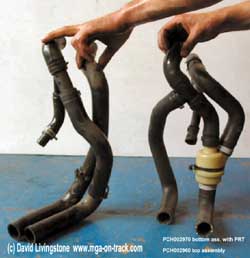 The PRT thermostat
At around the same time as the Pektron SCU in 2003, the pressure relief thermostat was introduced to significantly reduce the numbers of head gasket failures associated with the larger K-series engines in these cars. These are clearly worth having - but the problem of head gasket failure is often over-stated.
Picture opposite from Dieter's website, picture credit, David Livingstone - original coolant hoses on the left, and the newer PRT thermostat on the right.
Help! I am more confused than ever!
Don't panic! Yes, there is a huge amount of choice, but actually there really isn't a runt of this litter. All problems are well documented and solutions are usually pretty straightforward and usually not that expensive to resolve.
Can't decide whether you prefer the classic style of the MGF or the more modern aggressive stance of the TF? Drive both. The TF offered better suspension geometry with its conversion from Hydragas to conventional spring suspension. It is also much more stiffly sprung. The MGF in comparison was much more cosseting - but still a good track weapon. You decide which you prefer.
Should you buy the latest car possible? Broadly speaking, perhaps yes. Later MGFs (especially those made from 2000 on) had a vast array of small detail changes to improve build quality, water resistance and reliability. Later TFs (from late 2003 on) also benefited from re-designed cooling systems that have largely solved the MG's bug-bear gasket problems. But given that the earliest cars are as reliable as any other European built car of the same vintage, buying an older car can be done with some confidence. In fact, some say that the earliest, 1995 build cars were the best screwed together. But to state the obvious, these cars are also the oldest... which can mean more rust-related problems.
When all said and done, what you should do is buy the best car you can afford. While all problems are largely sort-able, ultimately a restoration case will end up costing you a lot more than buying a good car to start with. Unless, of course, you are specifically looking for a project to work on!
So you want to buy an MGF/TF. What should you look for?
General car buying tips apply…
… including ensuring that:
all previous finance on the vehicle has been paid off,
the vehicle has never been written off
you have access to the vehicle's full service history (which should ideally be all MG or MG specialist stamped).
When looking at a low mileage car, ensure that the cam belt has been replaced regularly at the correct interval: the rubber of the belt degrades with time, and therefore needs replacing every 5 or 6 years irrespective of the accumulated mileage in that time. The consequence of cam belt failure is extremely expensive in engine replacement bills.
Also make sure that all electrical equipment fitted to the car works correctly and smoothly (particularly on post 2003 vehicles, as mentioned above).
Are the tools, wheel locking key, radio security code and spare wheel still with the car? (NB: late model MG Rover era TFs were sold without a spare wheel, and instead had some inflation goo - which should be present with the car).
Also check that the central locking remotes (there should be two) and immobiliser codes are supplied with the car.


Look for subtle variations of panel lines. Not much wrong in this image, until you notice how the bonnet doesn't quite match the profile of the head lamp below it. There are also variations in the gap between the bonnet and the wing...

Suspect previous accident damage.


Similar to picture on the left, but this time looking at the boot lid: again the gap between the boot lid and wing is not consistent, particularly at the trailing edge of the boot lid.
Look for evidence of earlier accident damage:

Panel Gaps:
All panel gaps should be equal and even. If there are huge variances, the chances are that the car has been driven into a hedge or some such (see images opposite).
Not shown here, but often the most obvious place to look is the front bumper alignment - particularly with the bonnet, the headlamps and the front wing flanges. Even minor damage to the bumper crush cans will show here.

Re-sprays and over-spray:
Look for signs of over-sprayed paint on plastic and rubber trim- a potential sign of poor repair. Sometimes colour mismatches are most obvious under street lighting, but I wouldn't advocate looking at your prospective purchase in the dark!

Wheels:
Are the alloy wheels all the same age-or is one suspiciously new? Similarly, look at the condition of the tyres.

Panel dents and dings:
Also worth is looking at the side of the car from varying angles so that the light catches the body work in different directions and look for small dings. Unfortunately, the MGF has no protective mouldings to protect it from the careless supermarket car door opener, so many small dents may be obvious… should be rectifiable cheaply from a company such as 'Dentmaster'- but certainly a price negotiating point!

Buying one of these cars is all about your ability to spot a good one from a duffer. As an ever increasing proportion of these cars become older than 15 years of age, rust becomes a progressively more significant problem. No problems are insurmountable, but if you are not wanting to buy your MG as a restoration project, it pays to buy as good a car, bodywork-wise, as possible. Because MGFs are the oldest of the family, this next section has concentrated upon this model, but the TF is similarly effected, but being that bit younger the damage is often rather less overt! So here are some of my corrosion hot spots spotted: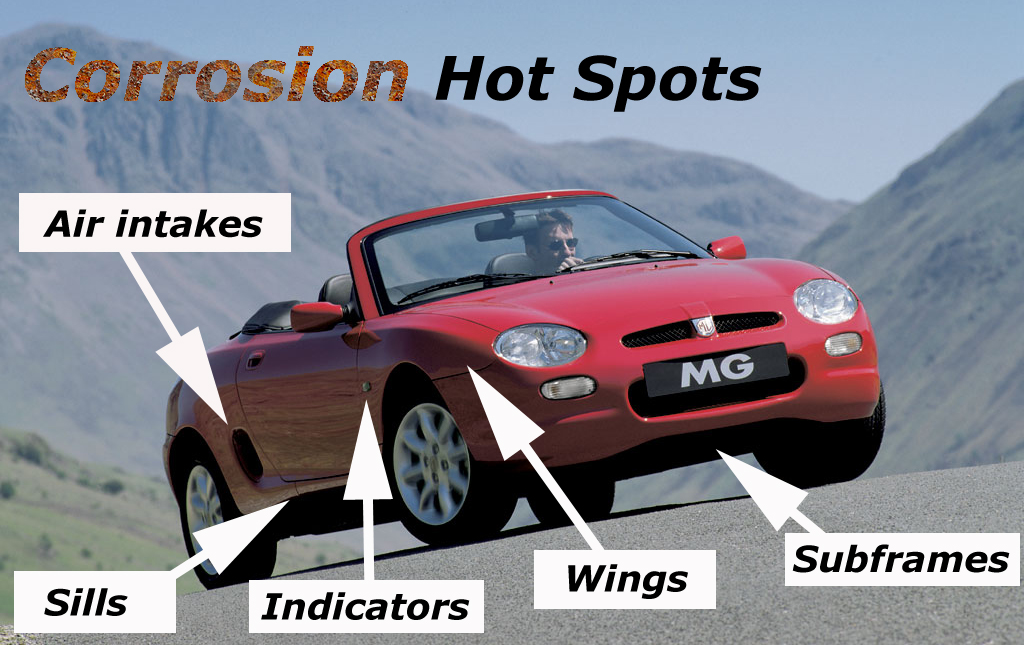 The following sections expand with pictorial examples of where corrosion occurs, what it looks like and how best to find it. I've found a few worst-case scenarios to show you; often the damage is much more subtle (paint work bubbling is often the first sign and easily but erroneously ignored). My hope therefore is that the following images will aid you getting your critical eyes tuned into where to look for the dreaded tin worm!
The air intakes
The air intakes appear to be particularly vulnerable to stone chipping - and if areas of paint damage not made good, surface and even perforating rust can take hold.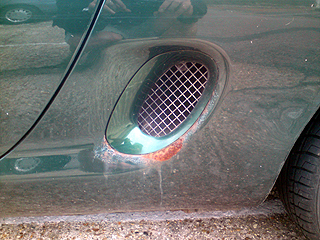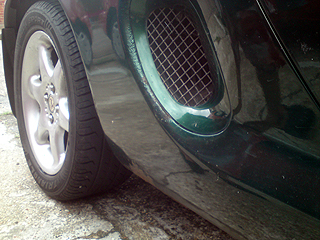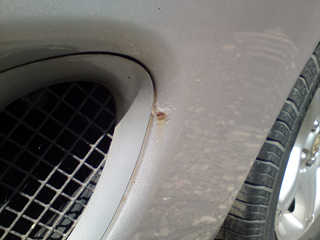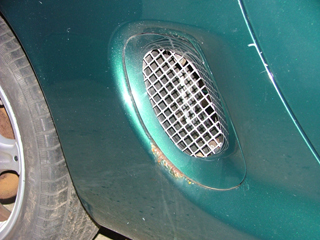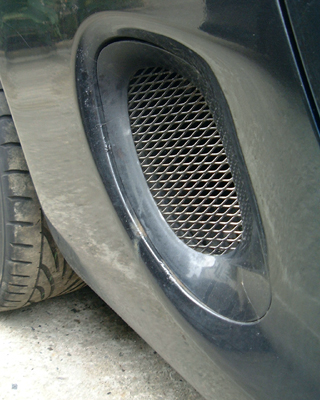 The Sills
The MGF, unlike the TF, has two-part sills. The two sections have a clear join, and like the air intakes, this joint appears vulnerable to stone chip damage and rust.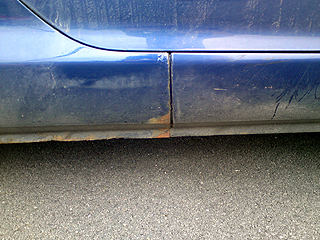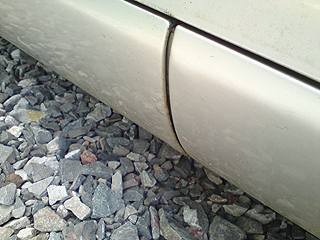 Perforating, MoT-failing corrosion can affect the rear of the sills, particularly near the rear jacking points. Corrosion appears to relate to damage to the stone-chip paint finish, which may retain moisture against metal, or there may be corrosion from within the sill, eating its way out (which can be extremely insidious - so inspect very, very carefully):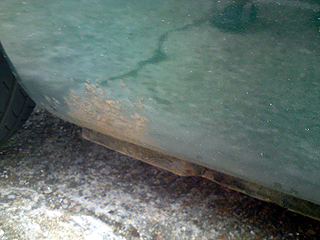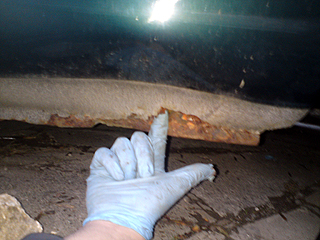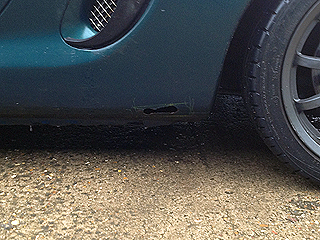 Indicators
The front-wing mounted side indicator repeater apertures also appear vulnerable to corrosion - possibly where the indicators rub and damage the paint, or perhaps where rubber gaskets retain moisture against paint: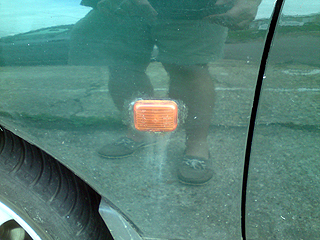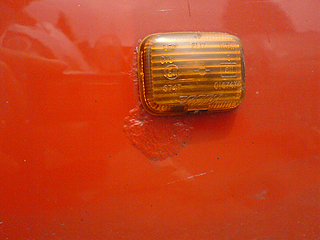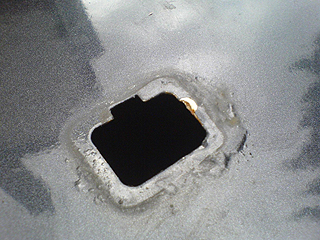 Front Wings
Unfortunately the front wings are particularly vulnerable to rust damage. The good news here is that this is a bolt-on panel, so replacement of rotten panels is a doddle - particularly if you can find good same-colour replacements.
Rot is commonest along the edge adjacent to the front bumper, where the bumper mounting flange is a double skinned panel, likely representing a moisture/condensation trap: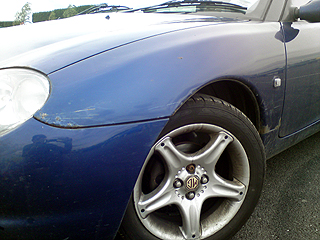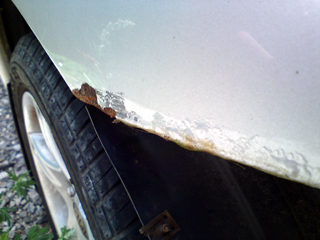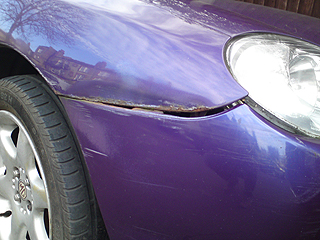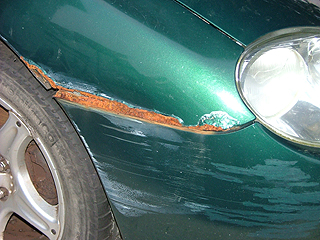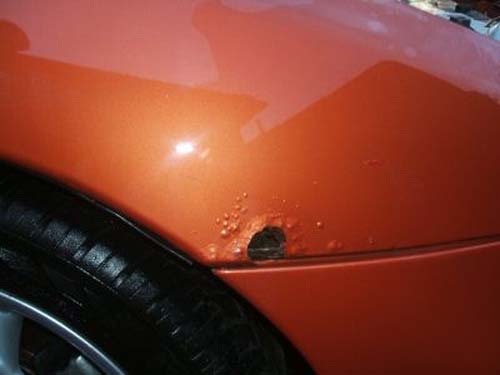 But the arch is another tin-worm favourite. I've seen the worst rot on cars where the rubber protector on the arch return lip is missing - but sometimes this protector can be a cause of problems where it retains moisture next to metal.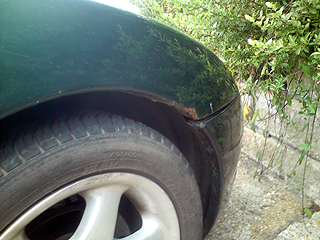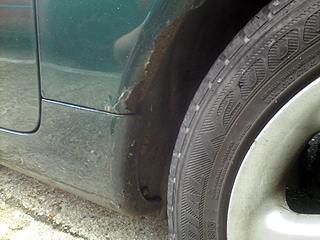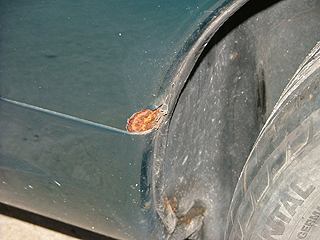 Less commonly, rust can bubble on the front wing near the door's A-pillar: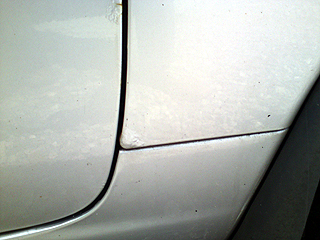 The rear wing is not completely invulnerable to problems of corrosion either - although damage in this panel is much rarer. This is fortunate, because the rear 3/4 panel is welded on, and represents a significant challenge to replace:
Other areas
Any area that is exposed to stone chipping can result in corrosion - particularly if previous owners have been less than fastidious in their maintenance/ cleaning/ repairs - as seen here on the windscreen surround and the leading edge of the bonnet above the head lamp assembly: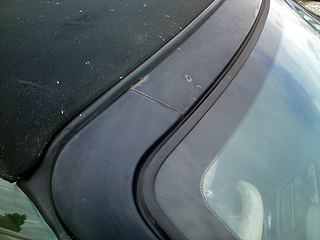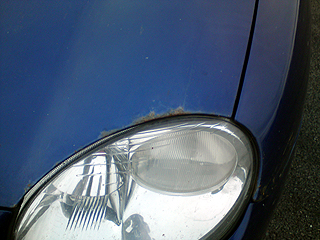 The rusty exhaust tail pipe speaks for itself, but the pipe behind the finisher can corrode so severely that the tail pipe actually just falls off! Curiously, the back box itself is made from a low-grade stainless steel, and appears to have much better longevity.
Subframes and suspension:
Unfortunately the critical subframes and suspension components are not immune from corrosion - here the rear subframe was extensively corroded (I believe this car had an MoT before being scrapped following an accident!!!). The main rust is in the mild-steel engine carrier, but the rear of the perimeter frame also shows perforations: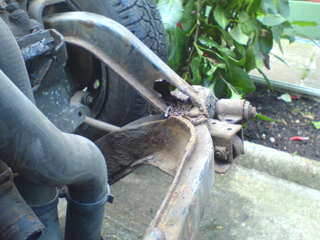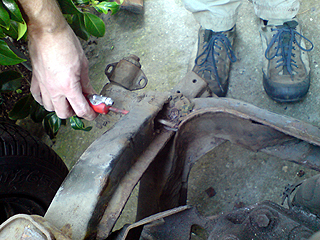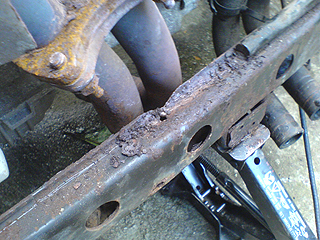 The most readily accessible areas of the rear subframes are not, unfortunately, the areas that suffer from severe corrosion. The area to concentrate on here is where the subframe bolts to the main body tube, ahead of the rear wheels, and the front perimeter frame as it passes in front of the exhaust manifold. A mirror and flash light will be useful here to assess any corrosion damage in these areas.
For completeness, I have to mention that the front subframe is not immune from rust either - here the strengthening box sections (highlighted in orange on the figure below) appear not to have such an effective paint covering, or perhaps made of lower quality steel. They frequently show evidence of heavy surface rusting, and in the other image next to it, show evidence of perforating rot that only became evident when the subframe was removed (the rest of the subframe was otherwise found to be sound!):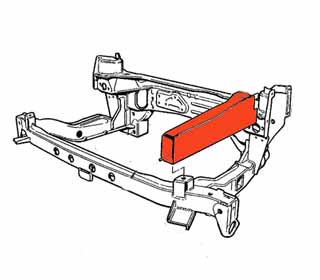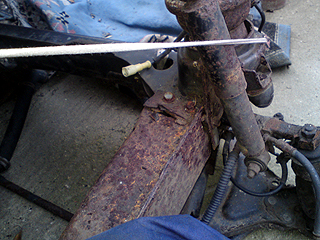 Unfortunately, these strengthening box sections are not at all visible to inspection on a whole vehicle - and in a sense, it is a leap of faith: if the rest of the car is excellent, then chances are, so is the subframe. If the car shows multiple areas of heavy corrosion elsewhere, then chances are that the front subframe has also suffered. Fortunately these box section stiffeners are readily replaceable - they just bolt on - so easy if planning on full restoration.
Much easier to assess are the Front lower wishbones which can rot through, thanks to moisture retention within the double skinned panel: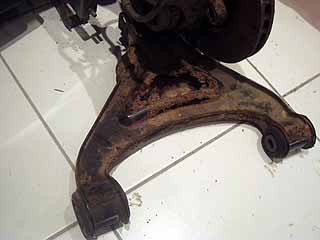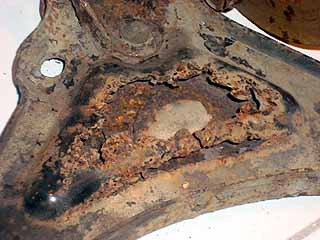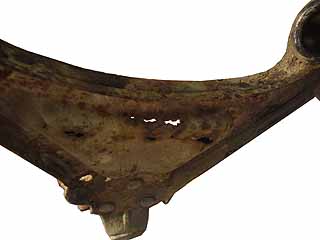 As you can see from the pictures above, the rot is usually most evident on the upper surface of the wishbone, so simply looking underneath the car you might miss it (although in extreme cases, as in the fourth image, corrosion may perforate underneath too - but usually an MoT tester will have spotted it before this point, so such a car is unlikely to have an current MoT). Probably the best approach to inspect the wishbones is to put the front wheels on full steering lock and get you head into the wheel arch armed with a torch. Don't be afraid to brush aside dust and road muck to get a good view. This component is replaceable, but I'd expect a price reduction commiserate with the anticipated replacement cost.
Look for 'common' MGF problems:
1
Water leaks

These may stain the seats (especially red seat cloth- which seems more susceptible to water damage).
Feel the carpets for dampness. If the passenger foot well is damp, then it is possible that the heater box seal has failed.
Also check inside the boot; very early cars had problems with water sealing- both with regard to panel sealing and premature rear light cluster seal failure (new seals are cheap, and are 1.5 mm thicker than the originals!!!). More information here.
Check the alignment of the door glass. Again, a problem with older cars is that the window guide stops could fail; these have since been redesigned- but this problem has lead to some cars with poorly fitting side windows that can lead to poor water sealing.

An MGF should be effectively water-tight. More here.

2
Tyres

Front tyre wear is a common problem caused by the simple-to-rectify tracking misalignment- typically manifests as inner edge wear. Be suspicious of brand-new tyres on the front: where fitted ask the vendor about tyre wear and whether the tracking has also been checked.
Also, it is worth looking at the brands of tyre used- some are better suited to the MGF than others- as explained here

3
Exhaust

The flexible pipe union in the exhaust system fails with age- very common and not specific to MGF/TFs. However, they are expensive to buy new (around 250 quid, although cheaper options are available) so do check that it is in good condition. Difficult to see (it is under the engine's sump, pictured right), but can be heard as a rattle or blowing noise.
As mentioned in the corrosion section, the tail pipe sections of standard exhaust systems can corrode to such an extent that they fall off! All MGF/TF systems have twin tail pipes that protrude through the rear bumper aperture.

4
Head Gasket Failure

Unfortunately, Rover's K-series engine have become synonymous with head gasket failures (HGF), a reputation that is perhaps only partially deserved. There are plenty of these engines on their original gaskets with 100+ thousand miles on them, but many owners were not mechanically sympathetic. Therefore there is a good chance that what ever car you look at has had its head gasket replaced. Curiously failures appear to occur with frequency peaks every 24,000 miles or so... so if looking at a very original low-mileage car with 24k miles on the clock, on it's original gasket, give this a thought. But if that gasket has been replaced, ensure that the work has been performed properly.
Also check the condition of the coolant pipes and front radiator on cars older than 5 years: these components can be prone to corrosion and failure- an AA inspection should pick these problems up. More here.
Make sure that all recall work has been performed…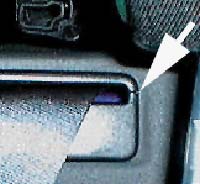 If the seat belt Eustachian on your MGF looks like this, get it replaced - your car missed the recall...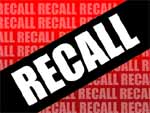 So long as the car you are looking at was purchased and fully serviced in the UK, there is a very good chance that all the recall work will have been performed - but don't assume that this is the case, particularly on early models re-imported from elsewhere in the world.
Research the age of the car that you are planning to go and see, and determine what recall work it may have been subject to when new (this page will help: click here)
The commonest country for MGFs to be re-imported from is Japan - a very significant market for early MGFs in the 1990s. Japanese cars often covered small mileages and as a consequence often missed annual services. Given that Japan is a right-hand drive market, difference between Japanese and British market cars are not immediately obvious - but there can be clues: Japanese specification MGFs all came with air-conditioning as standard (extremely rare on UK-spec vehicles of the time period), and were fitted with a functional catalyst over-heat lamp. You may find odd type-faces on the speedometer, as not all speedometers were replaced with UK-specification clocks at time of re-importation, and instead modified with a new face.
An example of an easily identifiable recall item is the seat belt Eustachian in the T-bar trim behind the seats. The early version that simply clipped in should have been replaced with an item that has two screws in it. If it does not have these screws, get it replaced with the later part (see also image opposite, right).
For more information on recalls click here.
How can I tell which engine is fitted? 1.6 or 1.8? MPi or VVC?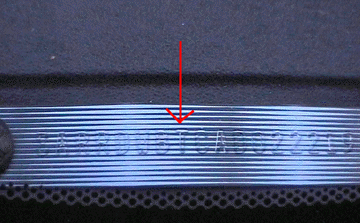 Take a look at the vehicle identification number - it contains a wealth of useful information for the car buyer - not least how to identify which engine the car you are looking at should be fitted with - be that 1.6, 1.8, VVC or 160 VVC...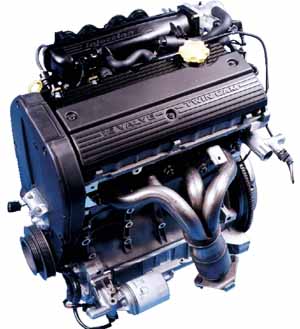 On most cars, you can have a pretty good stab at guessing what engine has been fitted to the car you are looking at by simply looking at the badge on the back. No such luck with the MGF. There are very few external differentiators between a 120PS 1.8 Multipoint injection (MPi) and a 145PS 1.8 with variable valve control (VVC). Many is the time over the years that I've met owners who were convinced that they had the more powerful VVC version, but had, in fact, the lower-powered model.
Two observations to make about that. One is that in 90% of cases you probably couldn't tell which version you were driving because, unless you rev the nuts off the car, you'd never notice the difference in power. Second, it is pretty hard to tell which is which by just looking. Unless, that is, you know what to look for.
Identification of the 1.6 MGF/TF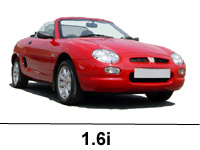 The 1.6 is an over-square engine and is not underpowered in its application in the MGF or TF. It loves to rev and is a sweet little engine. The car was launched in response to the cheaper versions of the Mazda MX-5, and represented the entry point to the MGF/TF range when it was first introduced in 2000/2001.
As a cheap entry to the MG sports car range, the car had a number of quite easy to recognise trim down-grades. The door mirrors, exterior door handles and the side intakes were all left in unpainted, black matt plastic. All were fitted with 15" Minilite-style wheels. The interior did not have the extra speakers in the T-bar or tweeters in the doors, as found in other MY2000 models.
Additional deletions included exclusion of remote central locking and nor did it have the volumetric alarm system.
It seems to me that many of these deletions were pretty petty. Many owners may have felt the same too! All the trim downgrades could be changed, and even remote central locking and volumetric alarm functions could be easily re-established by fitting the pre-requisite parts. However, these trim and specification down-grades do make the MGF 1.6 and the TF115 quite easy to identify - assuming that they haven't been modified.
MPi or VVC - that is the question
Telling the difference between an MPi and the VVC version of the 1.8 engine has always proven rather more challenging. On unmodified cars, there are however clues:
Exterior - the wheels:
The MPi and VVC have always been differentiated from one another by their wheels, although the style of wheel has changed over the years. Mk1 cars only had 15" wheels - 6-spoke on MPi and 5-spoke on the VVC. On MY2000 cars, the VVC got 16" wheels as standard for the first time, whereas the MPi retained 15" wheels. The size differentiation continued with the introduction of the TF, and it wasn't until the Chinese era cars that the MPi got 16" wheels as standard. The table below show standard fit wheels for MPi versus VVC for each model generation:
| | | | | | |
| --- | --- | --- | --- | --- | --- |
| | MGF Mk1 | MGF MY2000 | MGTF | MGTF MY2005 | MGTF NAC/SAIC |
| MPi | | | | | |
| VVC | | | | | NA |
Unfortunately, any wheel can be fitted to any car at any time - and distinguishing models by wheels was rendered near impossible by MG themselves thanks to special editions that used the same wheel irrespective of engine fitted. Fortunately, there are other clues!
Interior differences: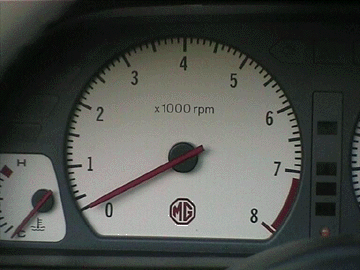 VVC models always had a better interior specification compared to MPi models: whereas the latter always had cloth seats (unless specified otherwise as an expensive option), VVCs always came with 1/2 leather as standard. But, like wheels, any interior can be fitted to any car, and with the special editions, the interior upgrades were applied irrespective of engine option. The better sign is to look at the rev counter (VVC rev counter from a Mk1 MGF shown right).
The dial face style changed over successive facelifts, but the rev line never changed between the two models: the MPi, irrespective of engine output (between 120 and 135PS) is always red-lined at 6750rpm. The VVC on the other hand is always red-lined at 7250rpm.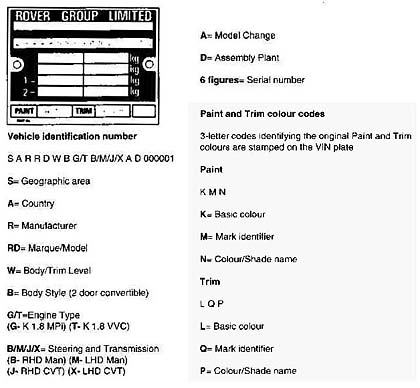 The chassis number:
Assuming that the car you are looking at has not been tampered with, then the chassis number should at the very least tell you what engine the car you are looking at was originally fitted with when it left the factory. The chassis number can be found in two places - in the left hand corner of the windscreen or under the front bonnet on the left hand side (behind the ABS unit where fitted - positions (1) in figure below). The under bonnet plate will look something like that pictured to the right (later cars will have MG Rover Group or MG Motor rather than Rover Group of course).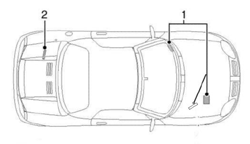 The key letter providing information on engine specification is the 8th one.
The 1.6 MPi will have the letter E.
The 1.8 MPi will have the letter G (120PS), K (135 PS) or if a NAC/SAIC TF with an N-series variant, the letter H.
The VVC will have the letter T (145PS) or P (160PS). Mexican cars with the de-tuned 150PS variant of the VVC engine had the chassis code N.
The engine itself:
Looking at the engine itself is the final check to be made. Swapping an MPi for a VVC has been done, but it is rare because the wiring loom and ECU needs to be changed - so it is a fair amount of work to undertake. More likely you would be interested in checking to see whether the engine number matches that stated in the log book.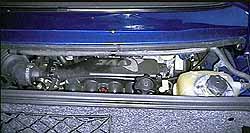 Spotting the engine number however is rather tricky because the engine is rather hidden away - but in terms of identifying a VVC rather than an MPi, particularly on MGFs, is the identification of a cast alloy plenum rather than the moulded plastic item (with "Injection" embossed on its upper surface). Early Mk1 VVCs had the letters "VVC" on the plenum, as Rover were rightly proud of this innovative engine and rather wanted to shout its presence!
Summary:
So yes, it is possible to do some quick visual checks to see whether the car you are looking at is the more desirable and usually more valuable VVC version. For more information when looking at Mk1 MGFs, this page (click here) takes you through the differences between the MGF Mk1 MPi and VVC in a little more detail.
Any other checks?
Just a few, these are listed below:
1

Suspension:


Measuring ride height is simple enough, and can provide useful information into the condition of an MGFs suspension

The MGF, unlike the later TF, uses Hydragas suspension. This novel suspension system is largely reliable in service, but by its nature (pneumatic and hydraulic components), it requires a few more checks than conventional steel suspension. Check the suspension ride height (tape measure required for a crude on the spot check it should be about 368 ± 10 mm at 17C measured from the centre of the wheel to the wheel arch lip vertically above it). Too high or too low may upset the suspension balance, and lead to premature tyre wear. Also, whilst performing this check, does the car sit level? The suspension units are coupled front to rear, and separate from side to side - thus a leak on one side will result in one side being somewhat lower than the other. There is nothing more irritating than a lop-sided car.
More information on Hydragas suspension here...

Check too for evidence of leaking dampers - oil seeping out is an MoT failure - faulty dampers are potentially very dangerous

It is worth test driving a prospective TF purchase - later (particularly MY2005) cars rode more smoothly than earlier versions thanks to damper, spring rate and roll-bar revisions. You may not necessarily find an early TF entirely to your taste, particularly those cars fitted with Sport Pack 2 lowered suspension. Then again, you might... The best riding MGs are the earlier Fs - and arguably the best handling the later TFs.

2

Hard and soft tops:

If the car comes supplied with a hard top, check its condition- in storage they can become scratched and chipped, or worse, the head lining stained or ripped. They are a valuable asset in the cold winter months: they keep the interior snug and warm and the rear screen is heated- much better for rearward visibility.
The cost of a second hand hard top is about £500 to £700 - which is worth bearing in mind.
If an older hardtop, see if the seals have been upgraded under warranty. Also make sure that it sits correctly with equal gaps around the window glass, and does not rattle on the move.

Check the condition of the canvass roof. Careless closure of the soft top can lead to the material getting trapped in the hood frame. Over time, holes can be worn into the fabric. Replacement is very expensive from an MG Rover dealer, so it makes good sense to ensure that the one you are buying is in tip-top condition.


A cracked rear screen is unsightly, and may be expensive to fix - so haggle hard.

Another important check of the soft top is to ensure that the plastic rear screen is in good condition. If it is badly scratched, distorted or even cracked, it is an expensive replacement -£380 to replace by Rover dealer, £180 if you do it yourself from a kit by Mike Satur. A mildly scratched or milky rear screen can be restored to full health by polishing with either Greygate plastic polish or Autoglym Super Resin body polish- so a bargaining point rather than a deal wrecker.

3

Electrical:

With the engine running do the brake lights work OK? This is not as daft as it sounds; the brake lights can stick ON due to a maladjusted brake light switch. (It is easy to fix but a bit of a pain to do).

Does the SRS warning light on the instrument panel go out when started? It should do! Failure to extinguish (it should come on when the ignition is switched to the accessory position) indicates a problem with the airbag/seat belt pre-tensioners. As essential safety equipment, this needs to be attended to. This is not a common fault however.

4

Mechanical:

Is there any evidence of oil leaks? The MGF, unlike its forebears, are oil tight- and therefore any evidence of oil loss should be viewed with some concern. A particular problem with very early cars is failure of the drive-shaft oil seals. Oil leaks can also occur from the cam covers- but this oil is burnt off on the exhaust manifold, and therefore is rarely seen. So DO check both the oil level, and the colour of the oil, as this may give vital clues as to how the car has been used and maintained.


Coolant should be clear and either green or orange, depending on type of antifreeze. Creamy residues of the quantity shown here screams head gasket failure.

As with the oil checks, have a look at the car's coolant. Look at the colour of the coolant (it should be a nice green colour), and check the level (should be at the level of the moulding seam around the coolant reservoir). This should again provide vital clues as to whether the car has been looked after and is mechanically fit.

The gear change should be light and smooth, and select gears easily. If vague and difficult, the mechanism has too much wear and/or is poorly adjusted. Difficulty in selecting gears (usually first) may indicate that the gearbox oil level is low. Some resistance to reverse gear is a characteristic of the gearbox, and is not a cause of concern.

Has the car had any performance modifications? If so what, by whom and when? Most bolt-on items, such as exhausts or filters should have no impact upon reliability. They shouldn't add value to a vehicle, but nor should they detract either. If these modifications have been performed, what else has been done- is the catalyst still on the car for example. Work on the cylinder head should move the car into a specialist category- don't buy unless you know what you are getting!

5

General Interior and exterior checks:


Unfortunately, red cars are generally more susceptible to the ravages of day light, leading to oxidised paint and varying colours over the car. This ought to respond to a good cutting polish, Otherwise, differing colours over the body work - particularly on metallic or pearlescent paints can suggest previous accident damage. Be wary.

Check the paintwork. Unfortunately, the water-based paint used on the MGF is prone to chipping, and appears worse with certain paint colours. As the base coat is a pale grey any chipping becomes immediately obvious on cars with dark coach work!!! This is particularly noticeable on British Racing Green coloured cars. Equally, if the stone chipping appears suspiciously little given the mileage, consider the possibility that the car has been re-sprayed. This might be down to a proud owner - but equally, the re-spray could be hiding accident damage...

Checking the Interior, these wear pretty well, but make sure that wear on rubber foot pedals tallies with the mileage showing on the car's odometer (it's unusual to find significant wear on these rubbers at anything under 80k miles). Finding a low mileage F is easy; if you are suspicious, walk way.

Whilst looking in the interior, have a smell. This is not as daft as it sounds: a musty damp smell is a dead give away of prior water leaks, even if there aren't any evident when you are looking. Also, on some early MGFs, there are problems with sealing of the fuel tanks leading to a petrol smell in the interior. Not a terribly common problem, but immensely irritating if it occurs in your car! More details on Dieter's site

Another mention about rust - be extra careful looking at cars in more salt-exposed areas compared to those inland and in the warmer, south of the country. I have already covered most of the rust-prone areas - although I have seen rust around the boot lid seams - particularly on Amaranth-coloured cars. If there is extensive rust on younger cars, then suspect previous accident damage and imperfect repair work.
What Road Fund Licence Bracket is this car in?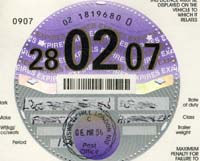 Following the budget of 2006, the road fund licensing charge moved from an engine capacity-based to a CO2 emissions-based system. There have since been further changes to the bands from originally described, but the variances persist.
Why should that interest you, as a prospective MG buyer? Depending on the model of MG you are interested in, that can mean up to £35 difference in your annual running costs - on two otherwise identical models - be that a pre-2001 MGF or post-2001 MGF, or a pre-2003 TF135 or post-2003 TF135...
Click here for a break down on how the road tax system applies to MGFs and TFs - and how this may impact upon your prospective purchase.

The Test Drive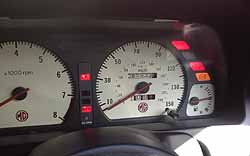 Having thoroughly inspected your prospective purchase, identifying any potential problem areas, it is time to take a test drive. Resist the immediate temptation to jump in and drive straightaway - look carefully at the warning lights: do they all illuminate and distinguish as they should? This is particularly important for safety systems like the SRS, EPAS and ABS (where ABS is fitted). These warning lights should illuminate as soon as the ignition key is turned to position 2, and then extinguish within a few seconds of the engine starting. Failure of a warning light to materialise may well indicate that a previous owner has disabled the instrument lamp to disguise a fault. Failure of a lamp to go out clearly represents a fault!

If possible, always start the car from cold and look at the exhaust emissions. There should be no blue smoke and there should be no audible ticking from the engine - although the variable valve control cams can become noisy with age, this may not strictly be a problem - but beware.
Time to go for that drive...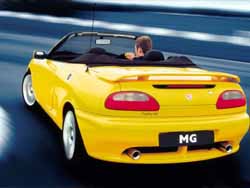 Does the car drive straight, or does it pull to one direction?
Yes, of course an MG should drive straight, and brake in a straight line without veering to one direction or another. If it doesn't there is a problem. The majority of these MGs have electrical power steering assistance - so if the car has a preponderance to steer to the left the whole time, then this could be a tracking issue, or it could be a problem with the steering column's torque sensor (more here). Fortunately, as the link indicates, it is possible to re-set the steering column torque sensor, but it is certainly a bargaining point, and it should be noted that self-steering would cause the car to fail an MoT...
Does the car feel stable or is there a disconcerting wobble to the way the car drives? Worn wheel bearings on these cars don't make much noise unfortunately - and the problem will make itself felt when the bearings are severely worn. By this time unfortunately, the bearing races will have collapsed, and even the whole suspension upright may need replacing...
Gear change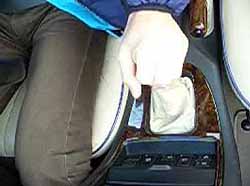 A mid-engine car with a cable-change gearbox isn't a recipe for a slick mechanical change, but the MG system is actually pretty good as standard. However the linkages can wear, and so too can the gear change lever's bearings, causing a great deal of slop - and even clonking of the lever's counter weight against the inside of the 'transmission tunnel'. Sorting this out should not however cost the earth - but again a bargaining point.
Selecting reverse on the PG1 gearbox can occasionally cause a bit of problem - and this is normal, because there is no synchro on this gear. Putting the gearlever back into neutral, lifting the clutch and then going back to select reverse is usually all that is needed to get the gear easily selected. If however it takes more than this, then there may be a problem... fortunately PG1 gearboxes are usually very tough, and more than sufficiently engineered for the power produced by the 1.8 litre K-series - and consequently not at huge demand on the second hand market meaning that a cheap replacement can be had if necessary.
Brakes
Yes, the car should stop easily in a straight line. The pedal can however feel a bit spongy. This can be multi-factorial, but what you want to know is whether the brakes have been well maintained. Spongy, lifeless ineffectual brakes may mean neglected hydraulic fluid (needs regular changes because it absorbs water from the atmosphere), seized brake calipers (particularly at the rear) and corroded or excessively worn discs. If suspicious, there is nothing stopping you having a closer inspection of all the brake components for corrosion, leaks and signs of regular maintenance.
Clutch
The clutch should operate smoothly and easily. It's a fairly light-weight control, effort-wise - and excessively high pedal pressures should alert you to potential problems, such as a seizing clutch release arm. Unfortunately this is quite an expensive job - mainly because the gearbox needs to come out to sort it. A replacement clutch release arm - that may include lubrication points built in (and not found on the standard originals) can be purchased pretty cheaply.
A clutch that bites close to the top of the pedal travel may indicate that a replacement may be due in a few thousand miles - and budget accordingly. Clearly there should be no slip unless total clutch failure is imminent!!!
Shakes, rattles and roll
During this drive, also listen out for excessive trim rattles (a few are to be expected- we are talking about a soft top car after all, but scuttle shake is not really a problem on the MGF as it is with a few of its competitors ... read more...). Excessive trim movement or rattles may be an indication of damaged or missing trim clips - or a car whose structure isn't what it should be. Always be aware of the "not quite right".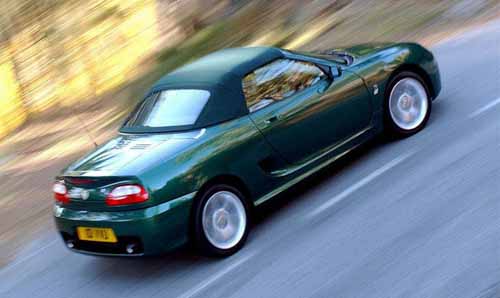 And finally...
If the car passes all the checks, is cleared by an AA check and is cleared by HPI, then excellent: go forth and buy with confidence! All the very best of luck.