Part 20: Project Shed - finally on track!
Milestones. Isn't the English language interesting? In the past here in the UK, milestones were, well, er… stones used to mark out every mile you walked while carrying your wears to market between your village and the next. Or something like that. And every time you saw a milestone you thought "phew! I've made another milestone!" I am not even sure that these days there are many milestones left next to our highways. The last time I saw one it was near the A303 next to Stonehenge that gave the distance to Salisbury and London – I think I have a photo of it somewhere: it looked suitably ancient and "cool". But the original meaning of a "milestone" has since been transmuted to stand for some kind of a momentous occasion or a significant achievement in a process of development. In the last few instalments of Project Shed, I am delighted to say that there have been quite a few of these milestones to write about. Excitingly, there have been a few more to report here too, because, finally, Project Shed is on track – and in more ways than one…
Shake down
Now that Project Shed has an MoT, a new identity (P249POY) and is fully road-legal I have now been able to put on some road miles to identify problems, get a feel for the car and think about what how to take any further developments. At the time of writing, Project Shed has accumulated over 800 miles and is overdue its first oil change – something that I still need to do. Why does the 'Shed need an oil change? As you'll recall, Tim and I changed the standard cams for a pair of Lotus Sport 135 cams – and to seal the cam ladder against oil leaks, we applied a generous amount of anaerobic sealant to the mating surfaces. Any excess will have been removed by the oil system and will have been deposited in the oil filter, so fresh oil and a replacement filter is certainly a "good thing".
Mechanically, things have, so far, been good. The engine sounds as sweet and eager as any healthy 16 valve k-series should. The gear box is fine – although there is some noise I think from a lay shaft – but that may be partly be because it is more audible due to the lack of sound-deadening in the car. Perhaps I should think of getting a spare 'box just in case? The experimental lower wishbone bush set up – a front polyurethane bush and the rear one a standard bush rotated through 90 degrees from its usual orientation – feels good and communicative, and not excessively corrupted by kick-back.
Joseph Lucas: Prince of Darkness.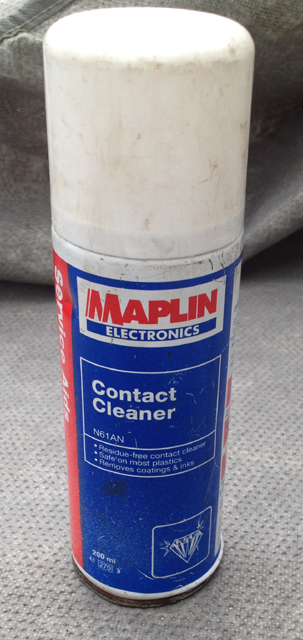 In fact, the main problems thus far have largely been electrical. Hmmm, sounds serious doesn't it? Actually no, not really – it has largely been problems with dirty electrical contacts. The windscreen wiper is a good example. Remember how it decided not to work for the MoT? Well the wiper gremlin struck again! I was just driving home, returning from a visit to scare my brother witless in the car I built, when a very light drizzle started barely a mile from home (I didn't spot any 'stones in case you were wondering). I went to flick-wipe and clear the windscreen but nothing happened. Argh! Not having operational wipers is incredibly annoying, not to mention a safety issue. I finally got to the bottom of this particular problem by taking off the fuse board, pulling off all the connectors front and rear, dousing everything in contact cleaner and reassembling. The good news is that the wipers have been behaving themselves ever since.
I guess dirty, oxidised contacts are an inevitable consequence of a prolonged lay-up period anywhere in the UK. Some of the switch and instrument illumination have been similarly effected – but I think the bulb that illuminates the odometer at night has genuinely blown. I haven't bothered to replace it as yet: it isn't the most essential bit of information that you need when driving at night. Rather more critical are the headlights. Another intermittent electrical contact identified was to the offside dipped beam bulb, discovered at the inaugural Herts and London natter. Non-working bulb = broken bulb, right? Wrong. I was in the process of replacing it, when, on switching on the lamps to check I was replacing the right bulb, discovered that in fact the headlamps were working perfectly. I suspect that a future project may be to go through all the lighting circuit contacts and douse them with contact cleaner to ensure future reliability… and I should go and buy shares in "Contact Cleaners R Us PLC"!

EPAS or no EPAS, that is the question [that Hamlet should have asked]
One electrical circuit that needs more urgent attention is the electrical Power Assisted Steering system (EPAS). In my experience, EPAS is very reliable in service, but on the Shed has been cutting in and out randomly. I haven't had a chance to properly investigate the problem yet, but judging from the way that it cuts back in and then later cuts out suggests that the EPAS ECU is not getting a reliable road speed or engine rpm signal. Again, the solution to this problem is to clean and de-oxidise all the EPAS connectors and the feeds to and from the instrument pack.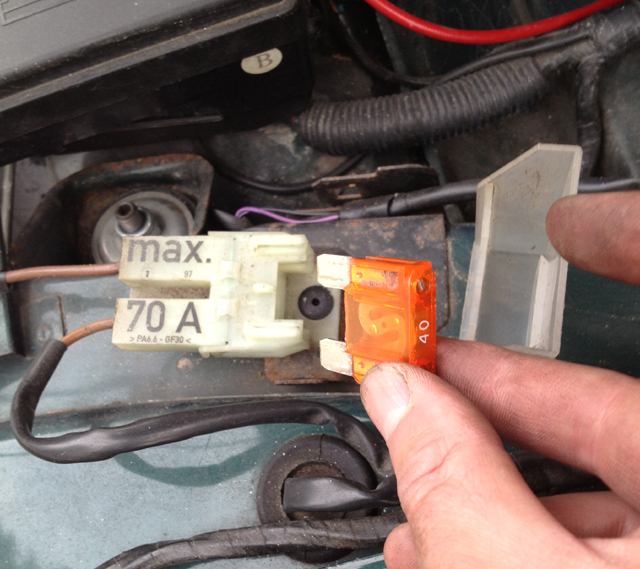 Recently the EPAS system has been spending more time switched off than on (easily achieved by pulling out the fuse, as you can see above) – and actually this has been quite illuminating because, to be honest, steering this particular MGF, even with a faster TF steering rack and a smaller diameter steering wheel, is no hardship without the help of the EPAS motor. Okay, the steering loads are higher at parking speeds than we are probably used to these days – but it is not excessive. This is partly because there isn't the huge hulking mass of engine over the front wheels, but also because of the amount of weight that has been taken out of the car. And the steering feels great with the EPAS off– plenty of textured feedback through the wheel. Not excessive steering weight, decent feedback: I am now increasingly convinced that I might as well remove the EPAS completely and fit a non-EPAS steering column. That will save some more weight (remove the EPAS ECU, its mounting bracket, and most important of all, the heavy EPAS assist motor). A win-win then, except of course I need to find a replacement non-EPAS steering column! Alas, this is not proving easy; I am discovering no one actually seems to sell these on the Bay of E.
Bench marking
Part of the rush earlier in the year was to get Project Shed to a Hill climb or sprint or two – with the inevitably futile aim of entering the Sprint that occurs every year at Silverstone with MG Live. As you know, the vehicle registration process took far too long, compounded by my school-boy error of having started the process far too late (how was I supposed to know that the car importation/ registration procedure would take over a month to complete?) and as a consequence, I missed a competitive entry to the event by a country mile. By the time the car was back on the road, there were only a few dates left on the MG Car Club's Sprint Championship calendar and so, after some deliberation, I decided not to get the Shed registered for competition this year. It would have been a slightly pointless itty-bitty entry at this late stage of the season, so it would be better to start afresh and give it a proper go for next year with the new motor-sport season.
The other advantage with this approach is that I could also work out what exactly I had in the shape of a slightly tatty MGF called Project Shed. That may seem strange, but of course the Shed isn't a standard MGF: I've been carrying out little modifications here and there as the car has been slowly put together over the last 5 years. A series of little experiments if you like.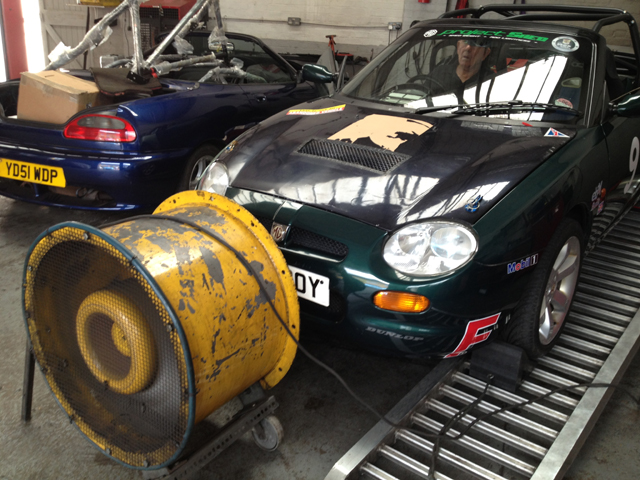 One of area that has received some (albeit fairly mild) modification is the engine – and naturally there are more cunning plans on the horizon. But before any further changes are made, just how strong is the engine right now? Well, it is a 1.8 litre MPi with 101,000 miles showing on the donor car's odometer (unverified). It has a pair of Lotus Sport 135 cams, with Piper Vernier pulleys timing those cams in to figures kindly provided by Dave Andrews. It also has an MGF Centre supplied 4-2-1 exhaust manifold and a K&N panel air filter, fitted within the standard air box, which is fed a diet of cold air from via the nearside air intake vent. Not a massive list, but I was hoping for around 130-135bhp, and so it was with some excitement that I headed over to Bernie Bowden's Novatech rolling road in Slough for a quickie rolling road session before the Ford Escort guys had a day's fun playing with ECU settings. To my surprise, the Shed did remarkably well: 134bhp estimated power at the fly wheel. Pretty good!
To work out power to weight ratio, you need one more parameter – the weight. As it happens, I'd get an opportunity to measure this accurately – but I'll come to that story a little later.
Where ever there is weather…
It seems like it was a long time ago now, but as you'll recall, I'd got the Shed back on the road right in the middle of the summer heat wave, so it seems odd that I'd been thinking (okay, almost pre-occupied) about weather protection. But remember we live on a rather damp Island, and the sprint season stretches from early spring to early autumn: dry weather on route and back from events is far from guaranteed. And some sprint circuits have high-speed sections, and it is very noticeable how much of a difference there is in aerodynamic efficiency between the car with a roof fitted and with it stowed. For quick times you need a roof! Unfortunately, the Shed had no weather protection whatsoever. My initial thought was to fit some kind of fabric roof that would be stretched over the roll cage, and attach to the body in the same way as the original roof. To investigate this further I drove the car over to a professional trim shop in Romford.
Several things came from this trip – some good, some not so good.
First, this was the longest trip I'd taken in Project by this stage, and the car ran without hiccup.
Second, as I was driving though east London in heavy traffic, there was this most incredible noise! I nearly jumped out of my seat! A loud screeching sound that oscillated between grumbling noise, rising intermittently to a crescendo not unlike that emitted by a kettle coming to a boil. When I had a chance to stop the car, I leapt out and checked the coolant. All was well there, but, man, the engine bay cooling fan's bearing is flipping noisy! Another victim of a prolonged lay up I suspect.
Third, the Cobra Evo seat is amazingly supportive, really holding you in place when you drive like the driving god you are at heady speeds of 5 mph, between east end traffic lights. But there ain't much cushioning, and crumbs, I think I was starting to get sciatica down my left leg! Bloke at trim shop was very kind saying: "well, it's a racing seat mate; it's not meant to be comfortable!" before handing over some seat foam padding for nowt. Diamond geezer. A little bit of padding goes a long way: the seat is now bearable over long distances with the foam shoved under my bum. Result.
Fourth, said geezer quoted close to a grand to make a roof that would probably be no better than putting a copy of the Sun over your head during a typical weekend at Glastonbury. We parted company, and on the more comfortable drive home I contemplated the option of making my own fabric roof out of the remains of the original soft top.
The internet is an amazing place – and of course, the MGF Register forum is a particularly amazing corner of it when New Zealand MGF owner, PurpleF, very kindly pointed me in the direction of Honeybourne Mouldings. I'd known of Honeybourne for many years: they are well known as manufacturers of aftermarket hardtops for loads of ancient British sports cars, and now they were remanufacturing the MG Sport and Racing racing hardtop that fit over the full-height Safety Devices roll cage that is fitted to the Shed! Wow. And they charge but a fraction of what these hardtops cost from other sources. I bought one.
Several things came from the trip to collect it…
First, the foam cushions do work. No more numb bum.
Second, to my near total astonishment, the electric hairdryers I fitted to keep Mr MoT man happy actually did what I had wanted them to do: they de-misted the windscreen!!!
Third, not having a car heater means you get jolly cold even on a mild morning. I needed to sort out an extension for my electrically heated vest!
Fourth, the chaps at Honeybourne were terrific. The racing hardtop is very light (a fraction of the standard MG road-going version) and looks brilliant. It took a bit of phaffing because this was, believe it or not, the first time they had fitted one of these roofs to an MGF equipped with a roll-cage: they had to relocate the mounting bracket! But it fits well, and looks fast! I love it.
Several things came from the trip home… one of which is to think of another way to start a sentence.
First was that the Shed was, despite being very loud, proving a surprisingly pleasant place to spend time. My bum was no longer numb, the roof reduced buffeting and improved fuel economy and the steering felt great when the EPAS decided to turn itself off.
Second, when I was thinking all was well in the world, on the M40 approaching Oxford, a small whiff of smoke blew into the cockpit. Two observations about that: one – there was a hole that needed sealing in the engine bulk head where the gear selection cables pass from the cabin to the engine bay, and two, what the heck is that smoke all about???
Smoke Signals
I pulled into Oxford services bought myself some refreshments and took a coffee cup and filled this with water and topped up the coolant expansion tank. The level actually wasn't that low, but a smidge below the ˝ way mark, so no harm to top this up. No oil in the coolant, no coolant in the oil. Phew. Oil levels were fine. No obvious cause of smoke signals detected, I decided to press on home and no further problems were encountered. A grub under the car later revealed a potential cause for the smoky moment: there was fresh-looking oily residue between the engine block and gearbox bell-housing suggesting that the crank seal may have seen better days, and that there might have been a slow drip of oil onto the exhaust manifold that instantly burnt off. Another thing to add to the snagging list then. While under the car, I took some aluminium tape and sealed the hole in the bulk head so I will inevitably forget about said oil leak until I read this article again…
Getting on track
Milestones – oh yes, that is how I started this instalment wasn't it? I'd booked to get onto the MGs on Track "Founder's track day" at Donington in October. Founders day because those of us founder members of MGs on Track had decided that we should, at least once a year, get together and get back on track together! A track day with Project Shed? Blooming awesome! Except… well, the tyres on Project Shed were at least 10 years old, and bowling round 80-mile-an-hour corners on ancient rubber wasn't my definition of heroic. Stupid yes, heroic no. So with under 10 days before the track day started another of those "too little too late" efforts to get the car ready, and in this case buy new tyres. The good news is that I think I know what tyres to get for Project Shed: Federal 595RSRs. They're half the price of the increasingly costly Toyo R888s, but at least 90% as good, according to all the on-line reviews – so I hope they'll prove to be good when I get them. Ah. Yes. When I get them – you see, I discovered an excellent on-line supplier, but they couldn't deliver the tyres until the day after the track day. Argh! Luckily I had a plan B. Plan B was nicking the wheels off Tim Woolcott's MGF for the day.
Before going to Donington, I thought I'd have a go at making a door window. 4mm Lexan was cut using the glass window as a template and I was delighted with the result. The only problem, as you may already have guessed, is that the Lexan is totally flat, whereas the original glass is curved. I thought I'd use some heat to bend the Lexan. Well, heat is good for bending Perspex, so why not Lexan? Time to experiment: a heat gun wasn't much use unfortunately, so I tried turning on all the gas hobs on the family cooker. That didn't really work out either. Lexan is tough and it seems, surprisingly heat resistant! I contemplated the oven, but it wasn't big enough. So I now have a subtly heat distorted window that doesn't quite fit to the hardtop. Hmm. Work in progress. But it weighs just 1.7kg – a fraction of the original glass. Every little helps.
On track!
A track day in October? We have to be mad! It was pitch-black at 0500 when I got up and left home, and as the sky slowly lightened, Donington day dawned as a grey, but mild and dry day. It was brilliant. MGs on Track days are very well organised – unlike me who somehow forgot my driving licence (expensive call to the DVLA got me on track though) and after briefings and some sighting laps, we got some brilliant track time in.
Several things …. OMG! I will stop using that line starter soon! But several things did, unsurprisingly, came to the fore.
EPAS
As you now know, the EPAS was being more temperamental than Victor Meldrew in a sulk and had spent most of the trip up to Donington quietly doing nothing very much at all. During the first 20 minute track session, for reasons only known to its electronic brain, the EPAS ECU would intermittently switch itself on. Which was rather disconcerting. Especially mid corner. All of a sudden the steering would go light and the feel suddenly go numb. I was thinking to myself: "oh dear, I think something has broken!" Actually, you could probably insert fruitier words than that in that sentence – but luckily Tim couldn't hear and didn't see the air turn blue. The problem wasn't so much something falling off, but rather the EPAS suddenly providing some unexpected inappropriate steering assistance! At the end of the interval, I removed the EPAS fuse, disabling it completely for the rest of the day.
Pesky electronics.
Alternator
While the suspension hadn't fallen off, something else did, during the next 20 minute track session. Tim had taken over as driver for this session, and was having a terrific time. About a quarter of the way into the session he pointed at the instrument pack. I couldn't hear what he said (it's noisy in here!) and he pressed on and enjoyed the rest of the session. On our return to the pits, the reason for the gesticulation at the instrument pack became clear: hidden from my view when seated in the passenger seat, was an illuminated charge light, ominously glowing red. Oh dear. Running out of electricity on track is one thing, but I needed to drive Project Shed back home – and I didn't fancy running out of electricity on the M1 thank you.
Tim optimistically suggested it might be a rusty terminal somewhere. I was pretty confident that that wasn't going to be the case, and figured the best place to start looking for a problem would be to take off the road wheel and have a look at the alternator belt. It didn't take long to discover the remains of a shredded alternator belt. This was brand new when fitted last year, so we couldn't blame an aged belt as an explanation. Nor could we explain it away as a belt that was loose: there had been no tell-tale belt screech beforehand. Closer inspection revealed the answer: the alternator lower bracket had lost one of its mounting bolts (the one that screws into the engine block). Nuts. No sign of it, nor of the spacer between the bracket and the block.
Thereafter started the "big scrounge"! Track day paddocks are brilliant, and before long we had somehow managed to obtain a replacement alternator belt (thank you very much indeed!!!), some M10 bolts and a couple of M10 nuts (see below, compared to the bolt and spacer that should have been there). We also found that the alternator lower bolt had also worked itself loose and had damaged its thread. Fortunately Jenny had a junior hacksaw with her, and we could repair the thread and re-fasten everything together.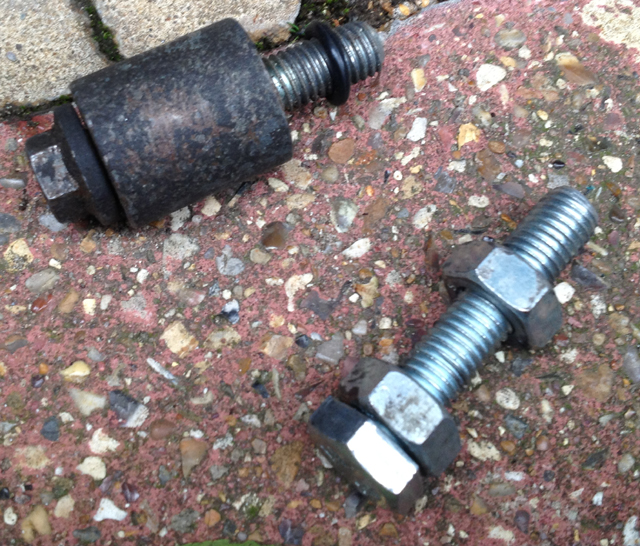 All this work meant we lost one session, but the Shed was back on track before lunch time! Brilliant!
Missing ignition
I mentioned that the EPAS had been sulking on the way up to Donington? Well the ignition system was also playing up a bit too, causing a misfire under heavy load at lower engine speeds: the classic symptom of a poor spark. It was an irritation for the rest of the day, but didn't get any worse. Shed watchers with elephantine memories will recall we had originally replaced the old HT leads with shiny new blue ones. But these were so badly manufactured we'd taken them off again and replaced them with the original HT leads. The distributer components are all new (Land Rover branded parts), so I suspect that either the old HT leads are now too old and need replacing, or there is some dirt/oxidation with their connectors. I'll take the engine cover off shortly and investigate further.
Brakes!
It was Tim's turn again when another red warning light came on. This time it was the brake warning light. Tim didn't ignore this one, and came into the pits. All the calipers and lines looked healthy. The brake fluid level in the master cylinder was just at the "minimum" mark, and under heavy braking, there was enough fluid shift to trigger the micro-switch in the reservoir cap. Keith had replaced the brake line to the rear with a new copper pipe when the Shed was last at Tech-Speed motor-sport, and we discovered that this union was slightly damp. It wasn't a loose connection exactly, but I nipped it up just to be sure. If this does not cure the problem, the plan is to treat the tread with liquid PTFE upon reassembly.
Brake warning lights in the penultimate session in the day meant that we decided that, seeing that the Shed had had what we thought was overall a pretty successful shake down, we should call it a day. Yes, there had been a few teething problems (the alternator shaking itself free for example), and yes, are still a couple of little problems to cure, but nothing too serious. Most importantly, the car had handled brilliantly, felt great, the engine felt strong and there were no gearbox issues. Nothing else had fallen off either.
How much does she weigh mister?
Now Jenny Stothert is a useful lady to know: she knew something I didn't. That something is that Donington had a weigh-bridge, and the facility was open and available to use! Better still, it had only been calibrated no more than 3 days previously! Wow!
Well, now seemed as good a time as any to weigh Project Shed – and I'd probably not get a chance to get to go to such a carefully calibrated facility like this again for a very long time! Well, it seemed rude not to. So a cajoled Dave Livingstone to weigh his car (a 1998 MGF VVC) as a bench mark: his car being of similar specification to Project Shed before its "rebuild". How much she weigh? 995kg. Dave's MG came in at 1115kg. So despite having a roof and a roll cage, I had still managed to save around 110kg! Wow! That was very pleasing.
Conclusions
On my way home I had plenty to contemplate. Yes, there had been some niggles: the alternator shaking itself lose for one (something that I'll sort when replacing the bolt with some "Loctite"). A slight leak from a brand new brake union another (hopefully now sorted by nipping up the connector a bit). But overall, here was I, driving Project Shed home, and nothing had seriously gone wrong. And that feeling is priceless.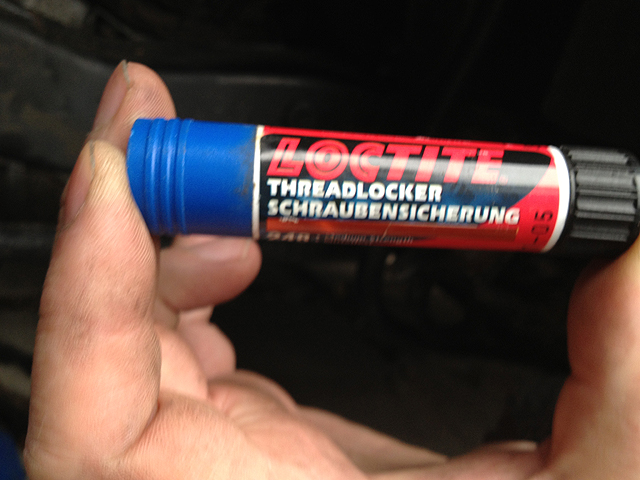 I need to compile a to-do list now – which will include the sulky EPAS (naughty boy!). I am increasingly thinking that I don't really need it – but perhaps that decision should be deferred until I know what the car is like to drive with sticky track tyres fitted? And perhaps the car doesn't need quite so much servo-assistance for the brakes anymore? But another success that I'll quickly mention now is the heated vest, driven by the electrical socket I'd wired in next to the accessory socket. It kept me nice and snug on the way up to Donington, and now it was keeping me nice and warm on the way home again. Who needs a car with a heater when you have all these nice light weight solutions? 950kg? I reckon that's achievable!