It's always good to harbour ambitions – after all, if mankind didn't think to its collective self, "I'd like to go to the moon one day" then Neil Armstrong would never have had the opportunity to lark about on a dusty rock and provide us with one of the most famous quotes of all time. Last time I left you with the (rather more modest) ambition that Project Shed would have its first track outing at Brands Hatch in December. Well, it was a case for one small step for (a) man, but Project Shed was left at home. That's even a rubbish paraphrase. Here's my excuse…
Baby, It's Cold Outside
I rather like Tom Jones & Cerys Matthews' rendition of Frank Loesser's famous Bing Crosby song, and frankly the cold, wet and dark December day that transpired on MGs on Track's last track event of 2012 did not look overly attractive as a first outing in a car without a heater. The logistics were painful too, as I have not yet summoned the inner strength needed to jump the DVLA hurdle required to get the Shed road registered. As a result, to get the car from North London to north Kent required a trailer. Problem number 1: I don't have a trailer. Problem number 2: our ZTT is currently sitting dead outside the house with a failed alternator, so I had no tow car. No tow car, no trailer, no hope. And that wasn't even the biggest insurmountable problem either: no the award for "The Biggest Problem" was the failed wiper motor – and on that particular December's morn, a wiper motor was an absolute prerequisite…
Happily I did go to Brands Hatch, but I took my other MGF that Yimmy, my wife, calls "Naughty 7." Why call that car Naughty 7? Simple: on account of its registration number and the loud naughty exhaust fitted to it. That some fellow track attendees mistook Naughty 7 for Project Shed probably means that I need to invest some time restoring my daily car back to its former glory!!! But that's another story.
Getting some warmth
Unsurprisingly, a key focus of recent work on the Shed has been considering the lack of warmth inside the open cabin of my track-going MGF. Putting the standard heater back in is way too obvious don't you think? Besides, I'd burnt that bridge anyway: I have sold the Shed's heater to a nice chap who is rebuilding a Midas Gold. Besides, with a couple of litres of water inside it, it's heavy. The two functions of the heater that remain a necessity are: (1) keep the driver warm and (2) demist the windscreen. The MoT man doesn't care if the driver dies of hypothermia at the wheel, but will hand out a great big fat FAIL notice if the car has no mechanism for demisting the windscreen.
Demisting the screen
I've been giving the windscreen demisting problem a lot of thought (or day-dream hours if you like), and there are two options that I can see. I have expensive tastes, and my favourite solution is certainly the most expensive: an electrically heated windscreen. Ford uses this technology (QuickClear™) for their road cars – and pretty effective it is too. They own the trademark, but I suspect that the patent, originally taken out in 1974, has now expired: consequently there is nothing to stop anyone fitting an electrically heated windscreen to their car, other than the obvious problem: availability. Fortunately, due to their popularity in rallying, you can get a bespoke, electrically heated screen for just about any car, so long as you can order a minimum order of 5 and have pockets deep enough to hide around 200 quids worth of beer tokens in. For each screen. Of course, if you break it, there's no point going to your local windscreen replacement centre – they won't have a spare. Do you buy two then? Where do you store the spare…?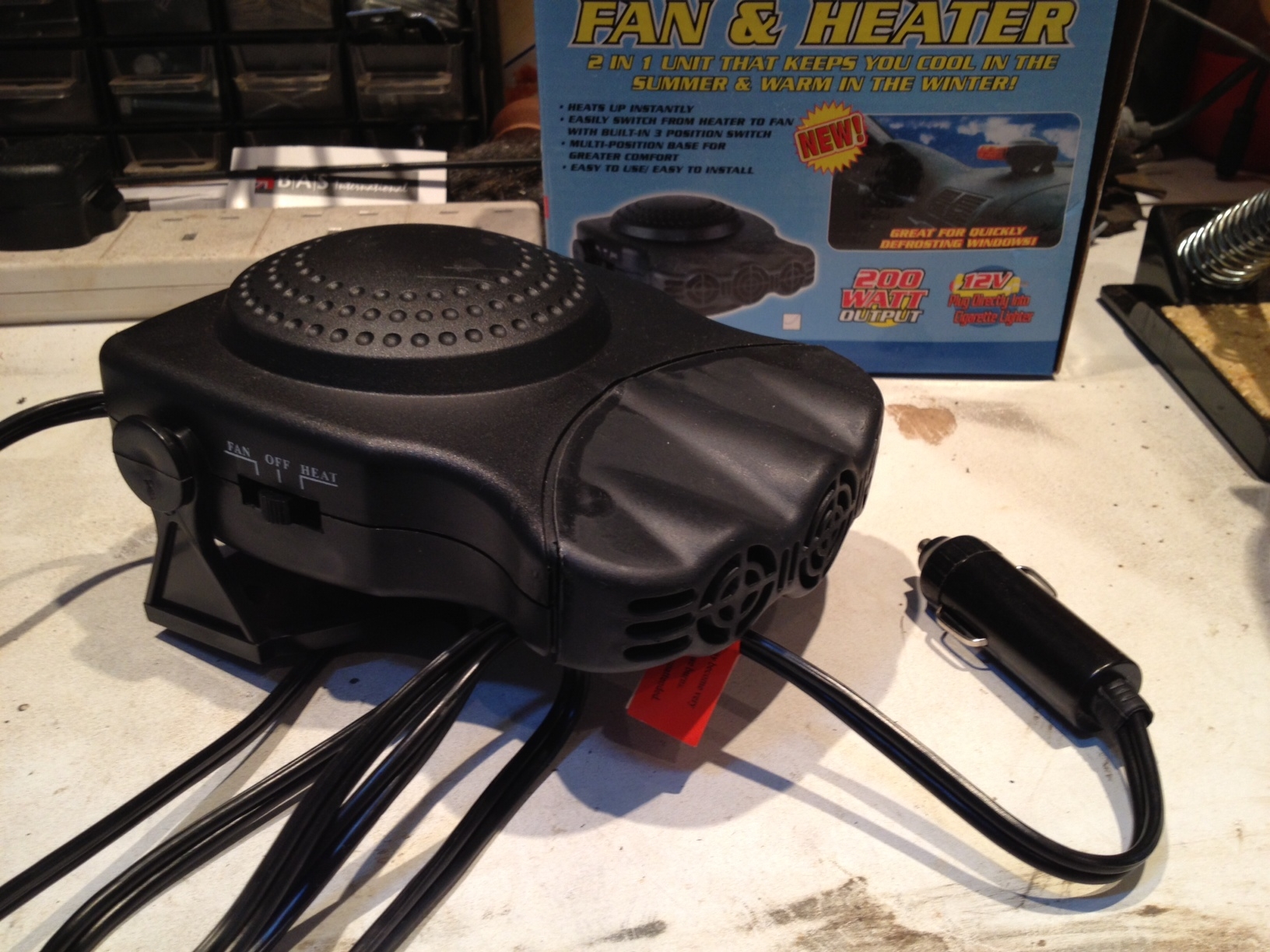 A cheaper solution which is (I read it on the internet, so it must be true) IVA and MoT compliant, is to use an electrical heater/blower. Basically what we are looking at here is the automotive application of a travel 12-volt hairdryer. I looked hard at ebay for at least 5 minutes and bought a pair of what appear to be the highest power rated blowers you can buy: 200 watts of heat and wind! I'm not that impressed with what has turned up. Thinking of wind, you could probably get more hot air on the windscreen by passing flatus in the general direction of the windshield. I have two of these feeble blowers, and they cost about 30 quid. You get what you pay for. So these will be mounted the bulkhead as close to the windscreen as is possible to make most of their meagre output and see whether they'll fool an MoT into ticking the box saying PASS in the windscreen demister section. Fingers firmly crossed.
Defrosting the driver
Given that the pair of travel hairdryers is unlikely to do much other than making an irritating and ineffective sounding whooshy/whiney noise, keeping the driver warm needed another answer. Well, my solution to that conundrum has proven rather more effective, and it hails from the world of motorcycling: an electrically heated vest (thanks Santa). This is part of a modular electric-heated garment range that includes arms, gloves, socks and trousers. Thinking back again about wind, I'd imagine a good vindaloo the night before would likely render electrically heated pants redundant. Perhaps even dangerous? I shudder to appreciate the impact of the application of an afterburner to the gaseous consequence of Mr Tandoori's "Chef's Special"… Anyway, I digress. What is sufficient to keep a hairy biker's snug and comfortable during harsh winter's riding on their two-wheel death trap should be more than adequate for me in my four-wheeled sardine can.
The garment actually comes with a useful battery pack for when one is away from your motorised conveyance, and it's great! But it also uses a 2.5mm power plug to take power straight from the vehicle's battery. I picked up a suitable socket from a local branch of Maplins, and also took the opportunity to refit the cigar lighter. I don't smoke, but having it means I can charge my phone and run it's sat nav function on the way to far-flung events. Which is nice. I may also run an ear piece so I can hear the instructions it provides too given that the Shed, predictably, has rid itself of the standard fit door speakers. The cigar lighter and power socket are run off the same, original cigar lighter circuit, and I've mounted them both on an off-cut of ZTT bumper that I had lying around after the car with a tow-bar needed to fit to tow the Shed to Silverstone. I like recycling. And it looks pretty good mounted in front of the gear lever don't you think? I was ridiculously pleased with the end result.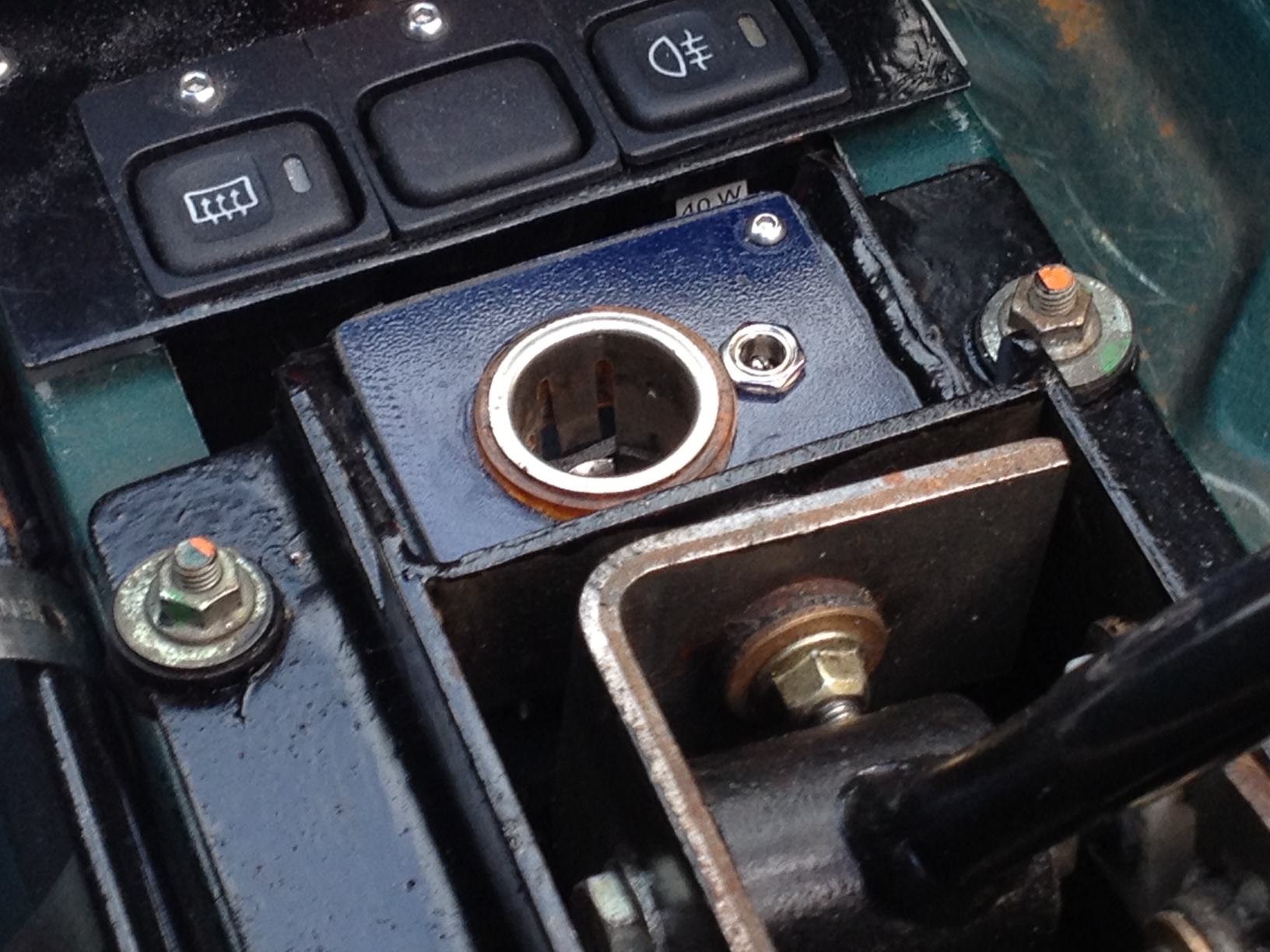 Does it all work? Well, the heated vest appears effective on the tests I've given it running on its battery pack. Whether it is adequate to keep my cockles warm while driving will have to wait until I can undertake a proper test drive. Watch this space!
New seats
I mentioned in the last instalment that I had the good fortune of collecting not just one, but two Cobra Evo seats, complete with embroidered MG logos, from Tech-speed. These seats have cast iron MGF Cup provenance: I wonder whether they have a collector's value in years to come? The Cobra Clubman seats were okay, but their fitment angle on floor/ chassis stiffener box section meant that you sat rather too upright for long journeys. I wasn't the only one to find this either – I have had correspondence from others using my adapter plates complaining of the same problem using base-mounted seats. Nuts. The solution is to raise the front of the seat by at least an inch – which was the original intention, but proved rather too difficult to do in folded 3mm metal plate. In order to address this problem, I'd bought some 25mm square, 3mm thick box section steel with the intent of fabricating mounting blocks for the seats that I had, but the Evo's side mounting presented the opportunity of a far more elegant solution.
The mounting plate I had made up was always intended to enable the fitment of both base and side mounted seats. If I was going to fit the side-mounted Evo seats, I needed side mount brackets – of which there are a number of options in either steel or aluminium. Over to our favourite internet auction site again, and bish-bash-bosh, I was the proud owner of two pairs of mild-steel side mounts finished smartly in satin black paint. For now, just the driver's seat is fitted, but the advantage of side mounting is that you have a great deal of flexibility on the tilt of the chair – and I am delighted that the driving position has significantly improved with around 10 degrees of tilt back. The passenger may also benefit from this in due course, but for now they get Scum-class accommodation in the ratty, upright Clubman seat…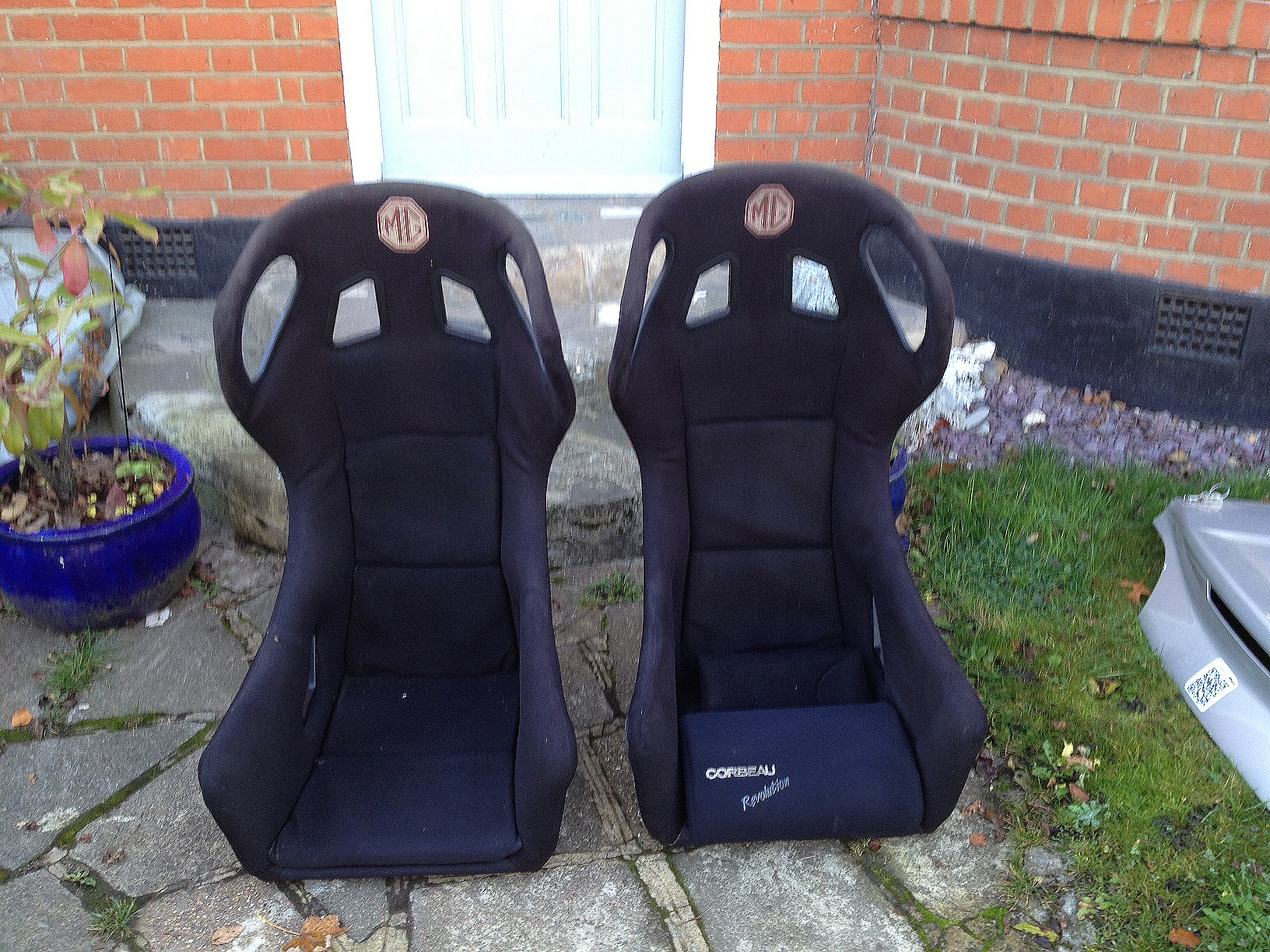 The only downside is that the mild steel side-mounts are pretty heavy. Fortunately the Kevlar Cobra Evo seat is lighter than the steel-framed Cobra Clubman seat, but I can't shake the feeling that the weight saving Kevlar chair is mitigated by the mounting brackets. Should I have gone for aluminium? Only if I wanted to have my wallet beasted: alloy mounting brackets are not the definition of "cheap" by any stretch of the imagination…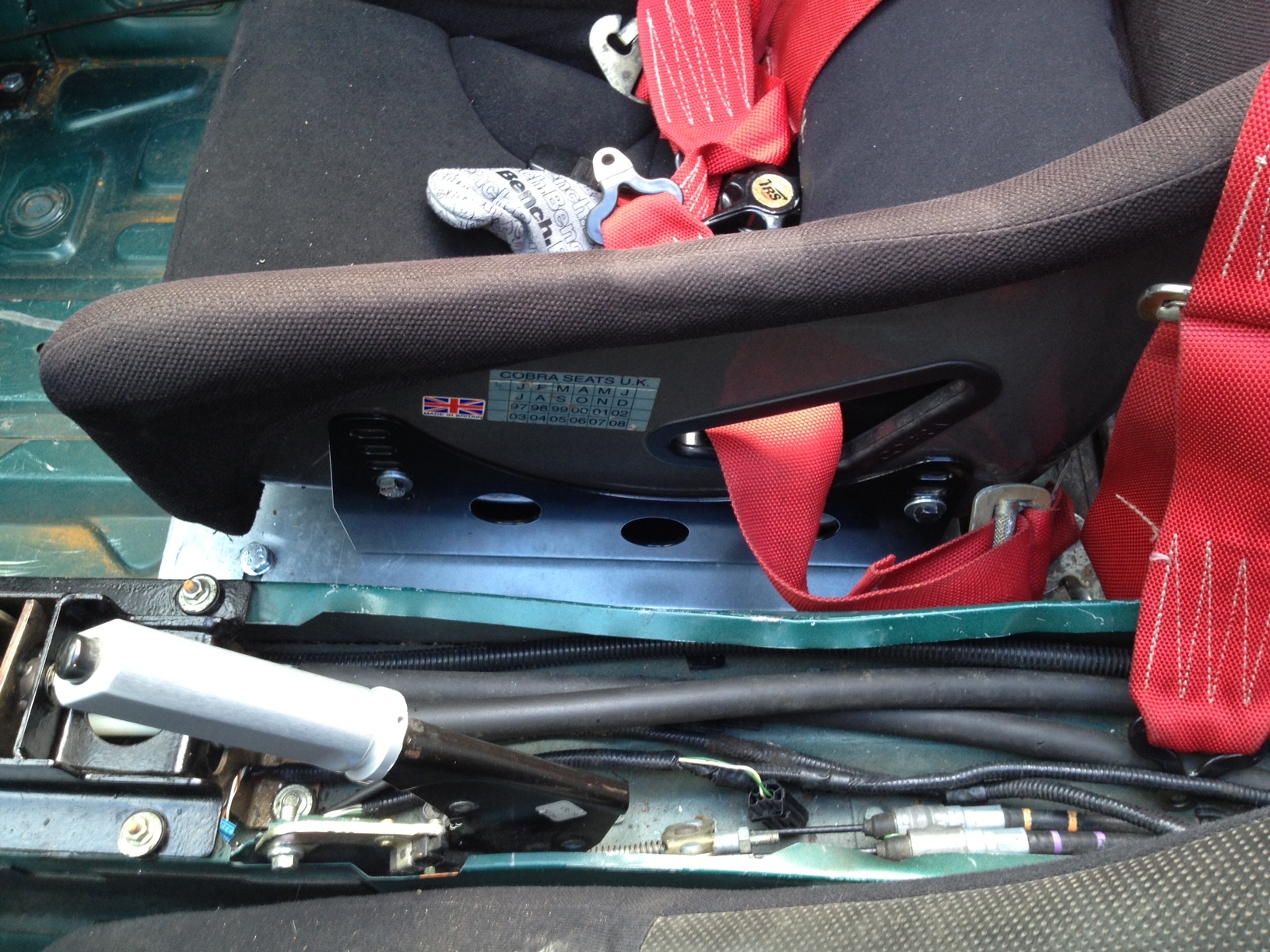 New door handles
The company that I bought the seat mounts from also provide a number of parts for rally cars, including light weight alloy shiny bits like foot rests. But what caught my imagination were the interior door pulls. They look almost identical to the parts used to bling-up Classic Mini interiors. In fact, I looked at those too, but this company's alloy component was much cheaper, and when they arrived, I am sure that they are a fraction of the weight of the Mini component. Okay, they're not the last word in quality finish, but then if they were they would look out of place in the car. I've used them to replace the plastic handle that strengthens the door card hand pull, which without the door card in place, this component is rather flexible, vulnerable to breakage and rather rubbish-looking and rubbish-feeling. The alloy door handles however feel great. They look a bit bright though: they'd be infinitely better if finished matt black, but hey, they may tarnish to a more acceptable finish in time.
| | |
| --- | --- |
| Before | After |
Silver lining
Fitting new interior door handles wasn't the only thing I did to the doors since the last instalment. Shed watchers with the memory of an elephant will recall that, during the archaeological dig that was the initial disassembly of Project Shed, I'd discovered that both window stops had failed (and not for the first time either…). So I had purchased a pair of reproduction Mk3 window stops from an internet vendor, and set about fitting those.
The passenger side went fine: I used instructions that my old friend, Richard Eaton, had penned back in the 1990s and all went well. Tightening up the retaining screw on the driver's side however went, well, pear-shaped. Giving the screw that last quarter turn of tightening led to the window shattering into a million small cubes of glass… Thereafter followed 30 minutes of fragmented glass decontamination, and the resultant bag of transparent green-tinged cubes weighed a lot more than I thought it would – perhaps 2 or 3kg. With no glass, the door was a whole lot easier to open and close. Hmm. A cloud of shattered glass cubes may have the silver lining of weight saving. The plan now is to remove the passenger door glass and use this as a pattern to make a Lexan™ replacement for both sides. The MSA book states that 4mm sheet is deemed suitable for motorsport use, and for this, I have purchased a 1m x 1m x 4mm sheet of polycarbonate with the clear intention to fashion this into lightweight window replacements. Cue more space watching.
Yet more daft sickers
You may recall that I had some Project Shed decals made up in the style of the original MGF Cup cars. Well I hadn't quite gone for the whole look, and on answering a question on the internet about these cars, I was inspired to delve deeper into the world of ebay vinyl upon seeing pictures of these cars in action once again dating back to the '98/ '99 season. The standard set of graphics included two sponsor decals – one for Mobil One engine oil, located just ahead of the front wheel, and the other for Dunlop, the series official tyre supplier, located at both ends of the car: two on the front bumper, and two on the rear behind the rear wheels. Getting these made would be expensive and buying ready-made labels off the internet very cheap: a classic no-brainer decision. Yet more PayPal transactions and a few days later I had 6 more useless, pointless stickers to hide a few more scratches with.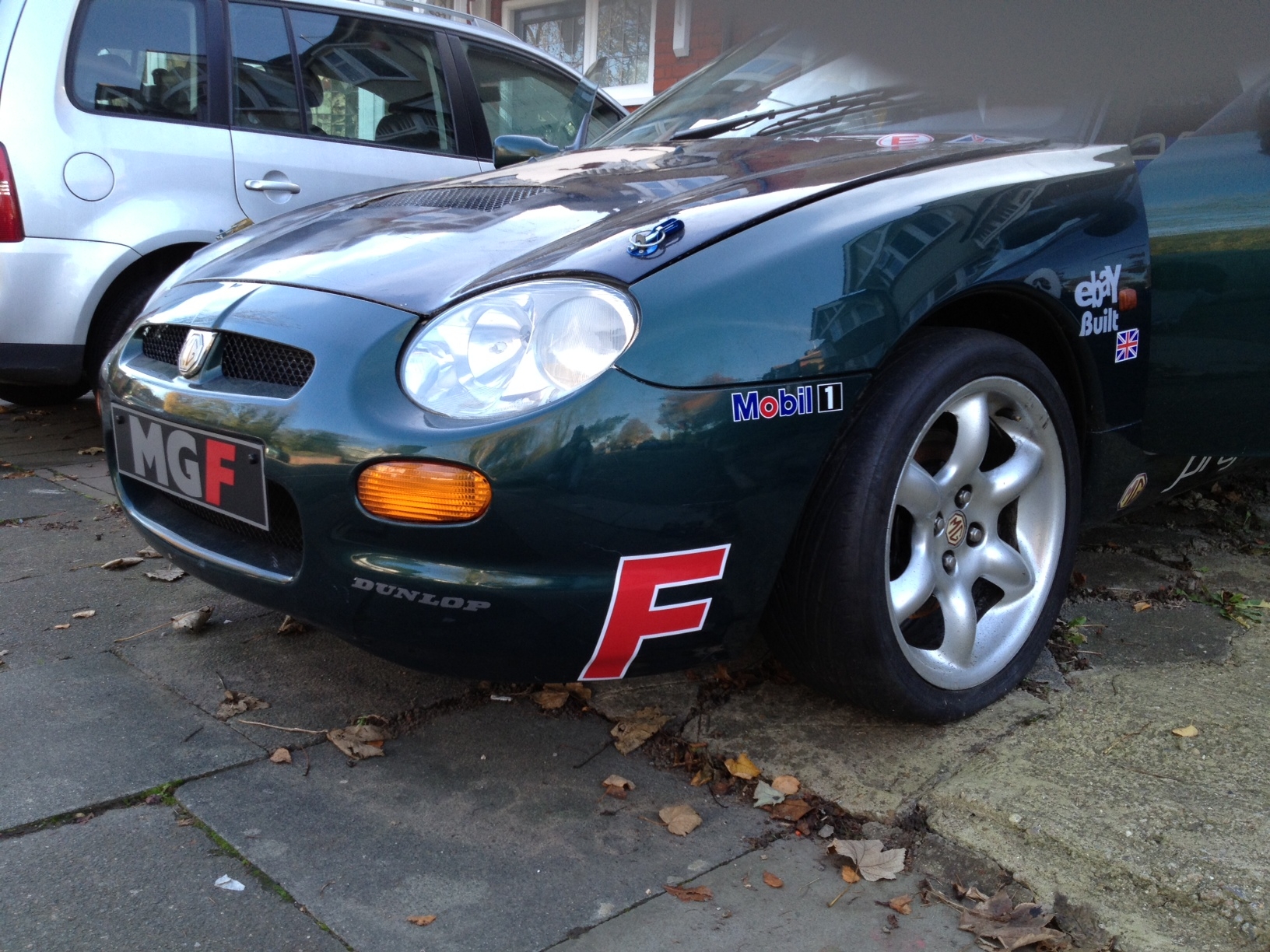 I am sure that they're worth at least another 5bhp.
The MoT to do list
With the windscreen demisting sort of sorted, the list of jobs needed to be done before the Shed can gain a tax disc and registration plate has been whittled down by one. All the other things I've done are totally surplus to requirements of passing THE TEST. Oh well. What remains? Replacing the aforementioned dead wiper motor is a must. MoT-friendly seat belts (I need to find a pair of non-exploding seat belt clasps that are compatible with the original MGF seat belts: I think Rover 200 rear-seat items will probably do the trick). A rear view mirror would be a good idea: the shoe for mounting the original has fallen off, so perhaps another opportunity to fit a lighter replacement. Except aftermarket rear view mirrors are either rubbish or expensive. More searching of the internet flea market then. New tyres – ouch – I need four, so what ever brilliant deal you do on some decent tyres, it's still going to be expensive. But I have been eyeing up second hand Yokos from S2 Lotus Elises which come in the required 16" size… but for wet/ road tyres? May be the venerable Toyo T1R? Getting this darn MoT is going to be expensive. But necessary, if the Shed is going to start competing at events in 2013!