Part 17: Loose Ends
In the post-Silverstone clamour, I loaded Project Shed onto the hired trailer and made a bee-line direct to Tech-Speed Motor-sport in Eathorpe, near Leamington Spa. I forget how many years I've known owner Marvin and his chief mechanic Keith, but if I recall correctly, the first time we met was on an MGF Register run in the Potteries (organised by Paul Sharpe) in 1998. Since then I've become a regular at the Mill, where they prepare cars for various race series (they are a highly successful independent team in the British Touring Car Championship) – and were pivotal in the development and preparation of the original MGF Cup cars in the late 1990s. In other words, they're the perfect choice for anyone thinking of getting their MG prepared for motor-sport, or even just kept on the road. They were the obvious place for me to take Project Shed, especially as they were effectively only "up the road" from Silverstone. If anyone is qualified to really give the 'Shed a thorough going over and spot problems I may have missed over what has been quite a prolonged and fitful re-build, they are. As it happens Keith is also an experienced and skilled welder – so getting the cage installed properly and the tin-worm excised from the near-side sill was also happily on the agenda.
The Horrors!
This was the first time that the Shed had left me, and the first time that anyone other than myself, Tim or Andy Phillips had really worked on it – so it was somewhat strange that the Shed was undergoing scrutiny by someone else, but I valued another opinion. There were already a couple of problems I was aware of – not least the hand brake that didn't brake! The other area of concern was the condition of the brake pipes. They'd had evidence of some surface corrosion when I was last working under the car, and this I had cleaned up and re-painted – but I was now regretting that earlier decision and felt that in fact what I should have done was bite the bullet and replaced the brake lines when the car was apart. I asked Keith to take a close look at this for me, and he decided that they should indeed be replaced. And they also replaced the clutch hydraulic line that had caused me such aggro to fit before: rather irritatingly, although this pipe salvaged from the donor car looked okay, it had also corroded on the inside and was very brittle. That lead to Keith having to drop the subframes (again) and rather more work than either of us had appreciated... Still, I think that was the right decision. If I were to ever embark on a rebuild of this type again (and I think that may be a possibility, as my other MGF is older than Project Shed and will need a restorative rebuild to ensure long-term longevity at some point), then I'll probably look to replace these pipes as a matter of routine.
There after, it was a question of replacing a few nuts and bolts (I'd used temporary fastenings for the front subframe for example while I had awaited for the correct items to be delivered), the rear anti-roll bar mounts were changed, the near side rear brake caliper was replaced (it had seized, leading to failure of the handbrake) and a host of other sundries – but so were a few other surprise items – including swapping over of the 15" 5-spoke VVC alloys on the Shed in preference to my old MGF Cup 16" alloys (I'm amazed that they still had them!). Plus the sill was so expertly welded up and repainted that you'd never know that the sill had a 3" hole in it before! There was no way that I could have effected such a magnificent repair. Finally, they set the tracking. Keith didn't tell me how badly out it was, but at least all four wheels should be pointing in the same direction now.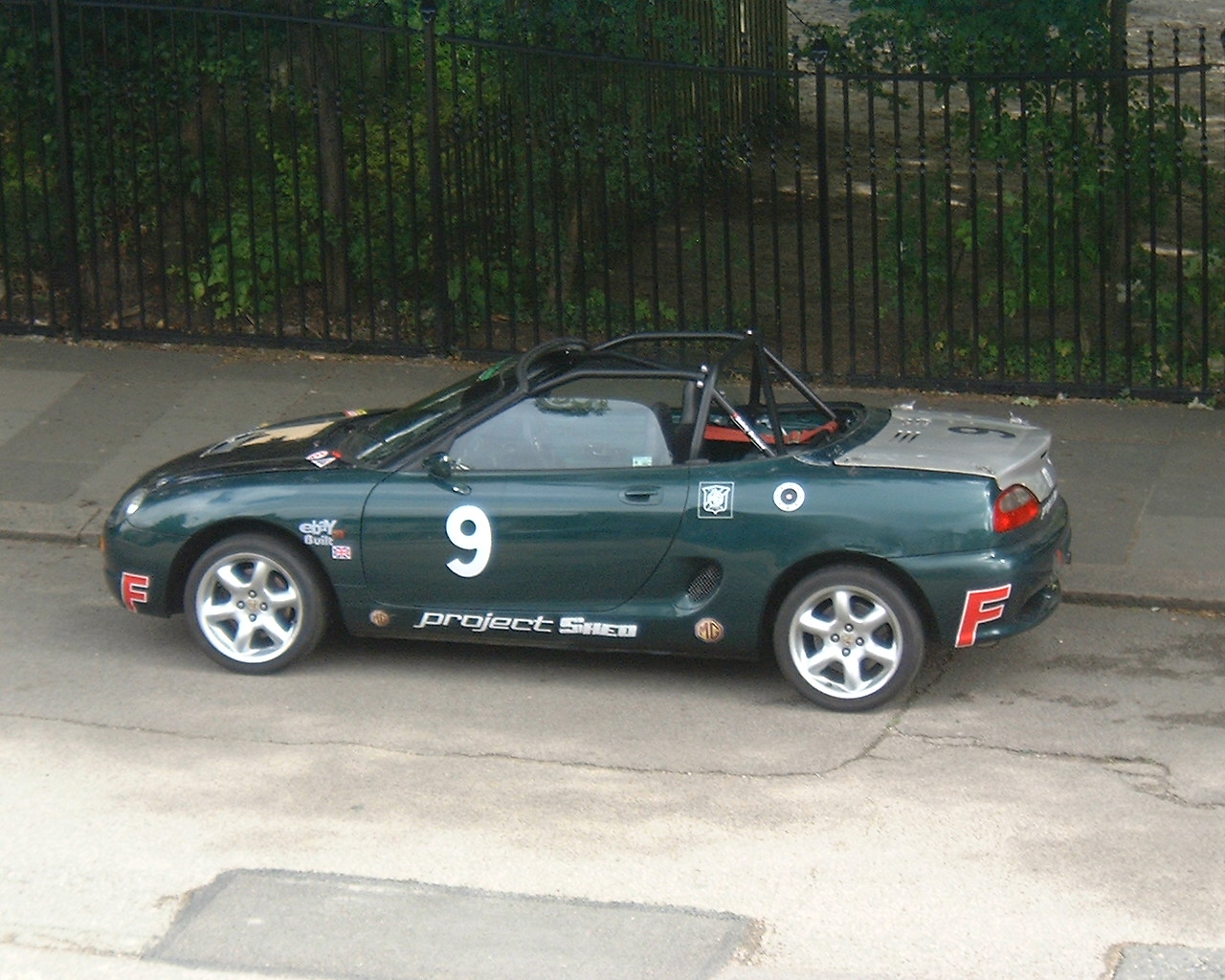 Tim was the first to drive the Shed after the work had been completed: he'd trailered his MGF up for a clutch change, and had kindly volunteered to collect the Shed and return it to chez Bell. He was impressed with the way that it drove, but reported an uneven idle. That was odd, I thought, because the Shed was idling perfectly well before, but Tim also reported how sprightly the car now felt – no doubt thanks to the weight loss programme this F had been put through (the "F-Plan Diet" perhaps?).
Rough
Running
On its return to my front drive, I was stunned at how good the Shed looked on 16" Cup alloys – and looked all the more like the MGF Cup racer with which it was sharing an increasing number of parts (bonnet, bootlid, roll cage and now wheels – not to mention the stripped interior). To find out whether the idle was as much of a problem as Tim mentioned I fired the car up and let it get warm, and yes, Tim was absolutely right: it was idling unevenly, and rather rich from the smell of the exhaust. Hmm – that wasn't right. As owners of pre-2001 MGFs will know, despite the early Fs having an OBD socket, it doesn't "speak" OBD2 or EOBD. It speaks Rover. What that means is that the hundreds of cheap OBD readers you can buy off the internet, including those clever phone apps, simply don't work. However, I recently invested in a T300+ keycoder/ diagnostic code reader, and here it proved rather handy, because it does speak "Rover" and can perform simple fault-code reading functions. It proved it's value too, as it came up with an error with the MAP (Manifold Air Pressure) sensor reading. I doubted that the sensor would suddenly have gone on the blink – but seeing that the engine would have been dropped on its subframe to sort out the brake and clutch hydraulics, it seemed more probable to me that one of the vacuum hoses had become disconnected. Eureka – and so it was! One vacuum line reconnected, and normal service was resumed: a beautifully stable idle and a more normal odour from the exhaust tail pipe!
The other facets of Tim's earlier test drive sum up were very light steering and a light feeling brake pedal that didn't have a great deal of feel. The former is due to the combination of EPAS and a reduction of vehicle weight. Perhaps the car did not really need EPAS at all? I think I'll leave the decision on whether to delete EPAS until I've done some Hill climbs: in my experience there are some Hills with pretty tight corners – so the advantage of a light, quick helm may outweigh the disadvantages, but nonetheless I shall now seek out a non-EPAS steering column: removing EPAS will certainly contribute to a useful second-phase weight-loss. The feel-less brakes may be a feature of brand new pads and discs that have yet to bed in – so the jury is out on that until such time as I can get some more miles to bed the car in, which is tricky if the car is not actually registered...
Other Tech-Speed finds: "Cash in the Attic"
Keith had mentioned that he'd seen some ex-Cup car bits and bobs in the store and wondered whether I'd be interested. Is the Pope Catholic? Oh yeah! My next trip to Eathorpe was rewarded with the sight of not just one, but two MG-branded Cobra Evo Kevlar race seats, and another set of 16" Cup alloys. Wow. Unfortunately, these seats are now expired and cannot be used for racing, but they are still perfectly good seats for track days, and with the MG logos stitched on them they look simply stunning. The Cup cars used only one seat, but I think I'll be fitting both to the Shed. The other boon is that their condition is considerably better than the Cobra Clubman seats currently in the Shed. Win win I think – although I'll need to find some more bolsters for them; bucket seat bolsters are removable, and for the race cars, these were often swapped from one car to another to suit whoever was driving at the time. One of my seats is completely devoid of the bolsters, whereas the other has Corbeau ones! I am sure both have had an interesting life, and I suspect that I may need to place a call to Cobra to see whether I can get some new replacement bolsters (assuming nothing turns up on flea-bay).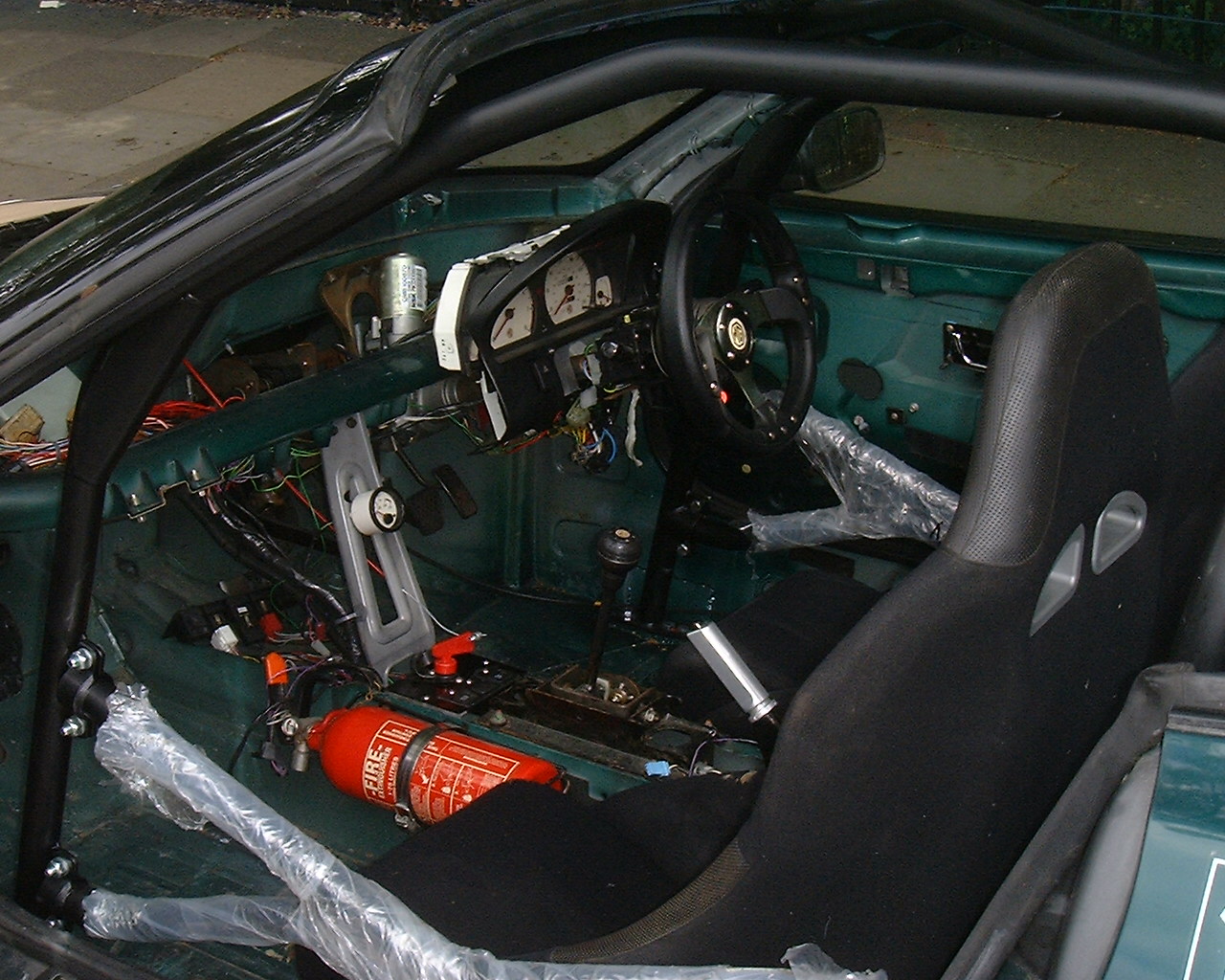 New developments
Now I confess, this section is a bit daft. Why? Because I am already thinking of the next stage of developments before I have even completed stage one: getting the car on track for its first season's racing. I guess that is a common affliction amongst petrol-heads – always thinking about the next big project, but there is a precident to consider: if the original MGF Cup Cars had 190bhp VHPD motors with throttle bodies, why should not Project Shed develop along similar lines? Built to be compliant with the MG Car Club's Speed Championship Road Going-modified class B (group 3), any kind of fuel supply system is permissible. Well, I'd be keeping with fuel injection. But fuel injection with a twist. What's the twist I hear you ask? Well, how do individual throttle bodies sound to you? Unfortunately, the well-trodden path with K-series engines is to use Jenveys, who's 42mm throttle bodies can be purchased that bolt directly to the K-series cylinder head, job done. Easy peasy. Also very expensive. Plus you need a new engine management system, as there is no way a road car unit can cope with the airflows that multiple throttle bodies can generate. None of that sounds particularly in line with the Project Shed ethos of doing things on a shoe-string does it? No it doesn't. But motorbike throttle bodies can be had for as little as 50 quid (I should know, I bought a set of Suzuki GSXR600 items with 38mm torque improving throttles for this much), and as MEMS3 is reprogrammable if you know who to ask (Mark, at Z and F Tuning for example – he was one of MG Rover's ECU development/calibration engineers and knows the system backwards), it can be programmed to run throttle bodies. In fact I spoke to Mark who told me that he'd programmed MEMS3 for the VHPD engine! So now, as you've probably guessed, I am on the look out for all the parts necessary to covert the Shed from MEMS1.9 to MEMS3... watch this space!
On the road to development
The other thing I've been giving a lot of thought to recently is the road – and more specifically how to move Project Shed around. Not being able to drive it on the public road is quite a pain because that means I can't work out where problems may lie before I get to a track. Which is rather annoying... I don't want to turn up to events and then having made all that effort, only to find that I can't compete in it because the car doesn't work! It would be better to find out before hand, and then just enjoy the day. The other impetous towards getting the car roadworthy is the finding that "Road Going Modified" means that the car actually does need to be road going. In other words registered and MoT'd. Ah. That was a bit too obvious wasn't it? Darn those Sporting Regulations! So one of the next steps is going to be to register Project Shed for the road.
There are two options. First is to register the car with its current chassis number. Second is to register the car in the donor's identity, but as a re-shell. Neither is not without DVLA-sized pitfalls. The first option is the most appealing to me, but will require Project Shed to be "imported" from Guernsey. I know that sounds strange, but regular Shed-watchers will recall that is where the car originally originated from, and the previous owner had never bothered registering the car on the mainland. This will involve the filling in of forms, proving its "export" from Guernsey and paying some wads of cash for an MoT, insurance and a registration number (£55). The second option is in someways simpler, but will almost certainly involve an engineers report, an IVA test, general buggering about and probably a "Q" plate. I am not bothered about a "Q" plate to be honest – but the rest of it sounds too painful. So option one it is.
I am now in possession of all the paper work that needs completing in my best handwriting in black ink. But I need to pluck up the courage to speak to HM Customs and Excise to ensure that I have no VAT to pay on a car imported from Guernsey in 2006...
Flying the (Octagonal) Flag
I don't know how many of you read Practical Performance Car Magazine, but some I am sure will recall that they featured Adrian's rather lovely MGTF 80LE a year or so back. Since then, there hasn't been much MG coverage. What is the magazine about? If you've not come across it, it is a magazine about modifying old cars and generally having fun with them. It isn't about any one brand of vehicle or high-value modifications, but more about what can be done on a budget, access to a scrap yard or Ebay, and some ingenuity. It's a good read, and I've been reading it for some years now. Just recently they've been running a feature on modifying a cheap Mazda MX-5 for Hillclimbing, by chopping out lots of weight, and trying not to spend too much money on it. That sounded very similar to Project Shed, so I dropped a message to the magazine's editor, Will Holman. He asked me to send him some information on the project with some pictures, and to my astonishment, I've been rewarded with a double-page spread in the "Readers Cars" section! Wow! Another 15 minutes of fame!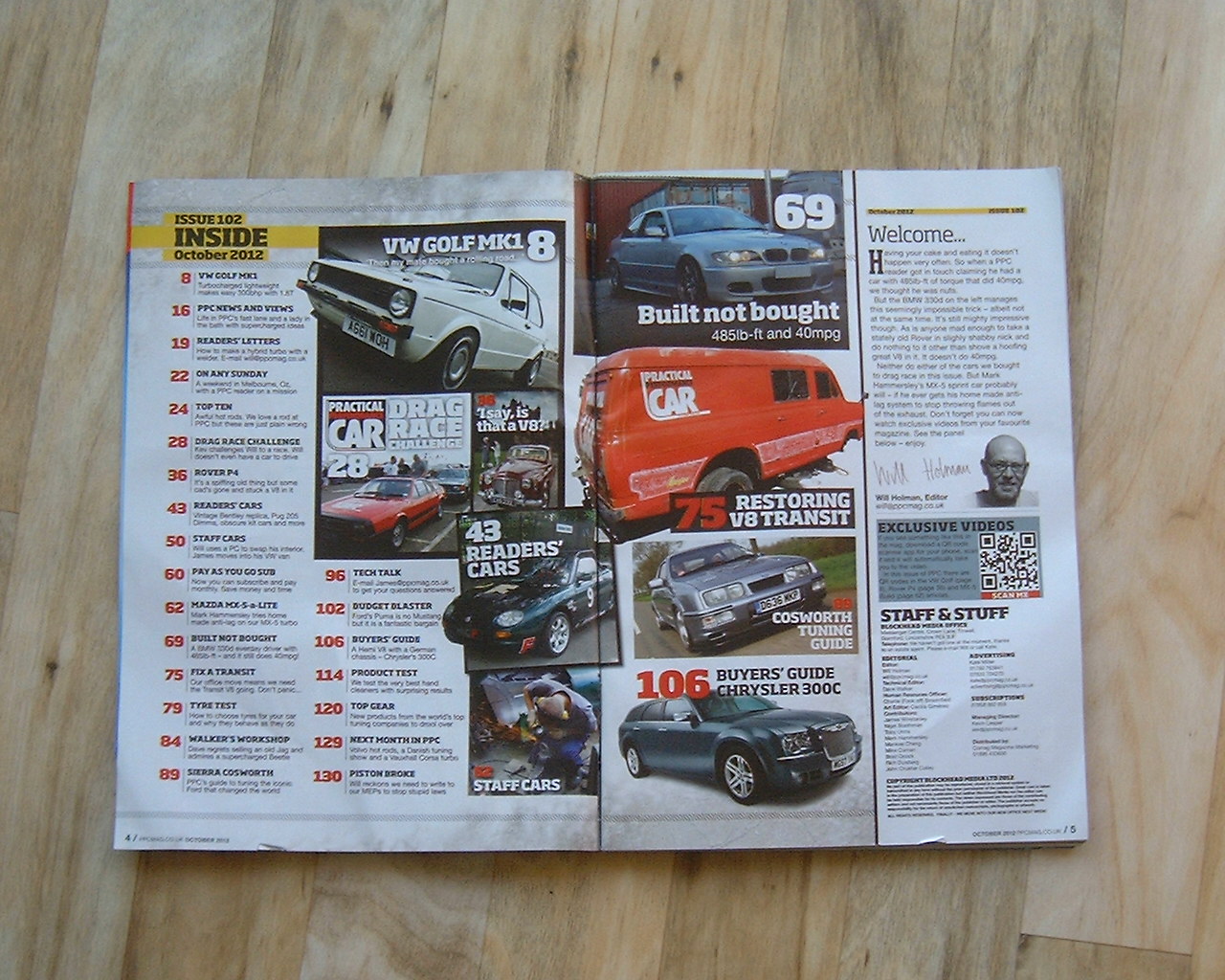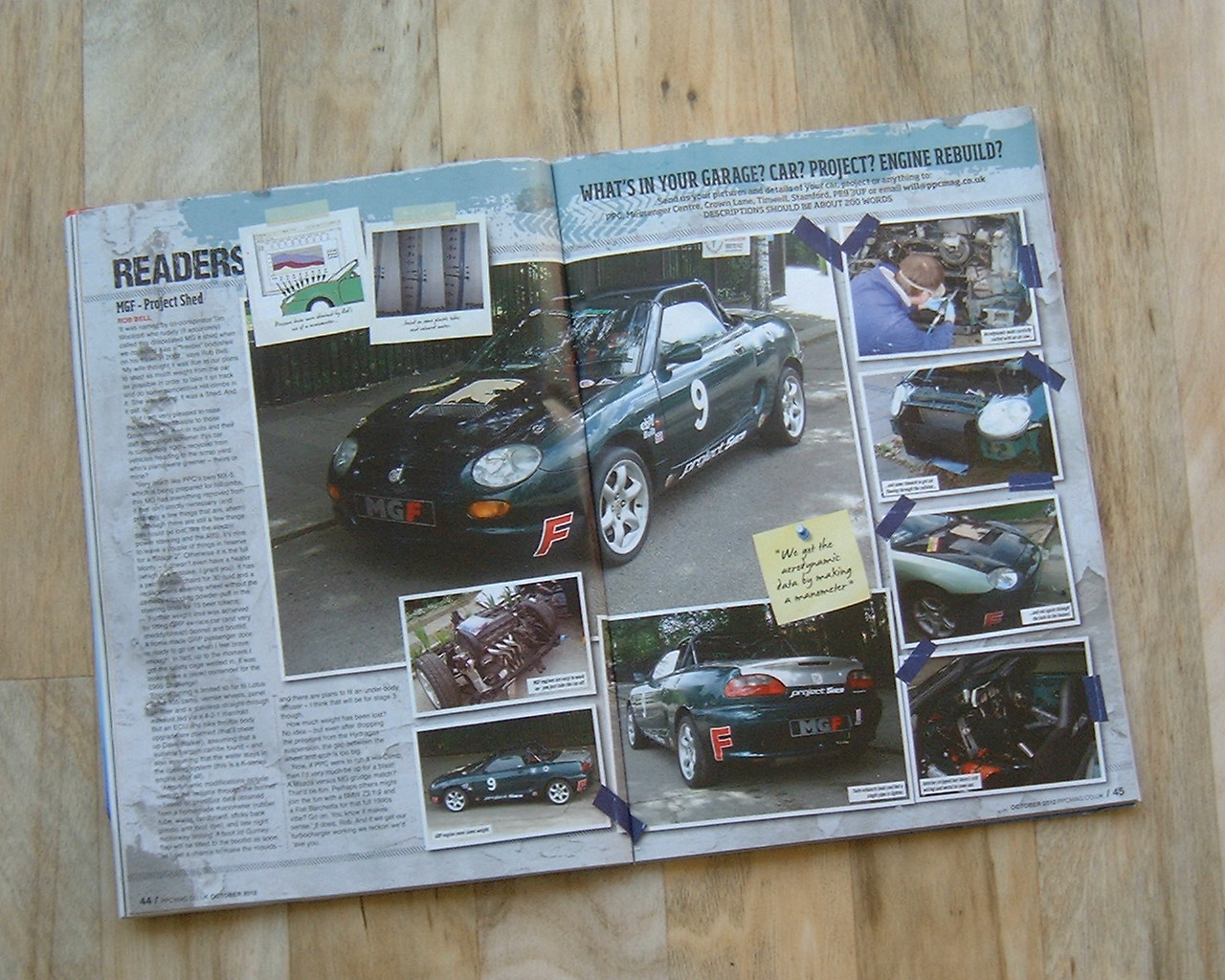 In truth, I just wanted a wider readership to become aware of what terrific value these little cars have become, and what fun they are to own, drive, modify and take on track. Perhaps, just perhaps, this article will help and stem the flow of savable MGs from heading to the scrap yards and inevitable oblivion...
Count Down
The final update in this quarter's report is that I've booked a track day. In December! The idea is that this will be Project Shed's first outing – and this will mean sorting out a whole host of little details on the car before it will be ready – but it is almost there. I am tempted to swap the Clubman seats out in favour of the MG Cobra Evos – but that may mean fitting new brackets (either purchased off the internet – about 30 quid a pair) and fitment of a passenger harness (I'm currently bidding on a set as I write... currently at 99 pence and 24 hours to run), but it seems to be a good deadline to work to, even if December is a bloomin' silly time to go on a track day in a car without a heater!

Find out next time whether I make it in Project Shed, or whether I've bottled it, and taken my other MGF instead!