Part 1: Too good to be true
To err is human. To really foul up requires a computer

The members' free-classified section on the MGF Register website - a mine of useful and not-so-useful stuff.
Dangerous place, the internet. Dangerous for my bank balance in any case – and I am not talking about internet fraud or identity theft. What I am talking about is the temptation of an apparently good offer. Ebay is dreadful – and I am sure that many of you reading this has succumbed to the allure of that attractively priced gizmo before, even if before seeing said item listed you had no idea that you wanted such a thing in the first place – or, indeed, knew that such a thing even existed...

Which is, in a way, how this story starts: what we are looking at here is not the result of Ebay, but rather the appearance of an ad in the members' classified section of the MGF Register's own forum (http://www.mgfregister.org), an advertisement for nothing less than a free MGF!

In the beginning, there was an idea…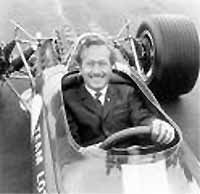 Colin Chapman's philosophy of 'adding lightness' lead to numerous F1 world championships - not to mention some superb road cars.
The germ of "the big idea" was sewn many years ago; I've been thinking of obtaining another MGF for reasonable money to 'play with' for quite some time. Like you I am sure, I have far too much emotional attachment to my first MG. It is used daily, and while it isn't stored in cotton wool (as anyone who's seen it will certainly testify!), I'd certainly hate for it to be irretrievably damaged in any way – which the main reason why I've not raced it (but it has been used in other forms of motor sport, from track days to competitive sprints and hill climbs in the Car Club's Speed Championship).

What I've wanted is another MGF to go racing, to be more competitive at sprints/ Hill Climbs with and to take to track days – without fear that my dearly beloved 'first' MGF becoming written off. Such a car shorn of its requirement to be a daily driver could also become far more focused in the Colin Chapman idiom of 'adding less weight' by ditching such luxuries as the radio, sound deadening, heavy squishy seats, heater and electric windows.


| | |
| --- | --- |
| The interior: no dash board, no electrics (the yellow wiring being the now discarded SRS wiring loom). No seats either. The plan is to discard everything you see here. Shame that the chap I collected the car from did such a hatchet job on the dashboard. It's now well and truly scrap. | Possibly the most 'attractive' view of the car – it looks almost passable here doesn't it? There are dents in many panels but the bumpers appear to remain in excellent condition – quite a surprise to be honest. In this picture you can just make out the self-steering rear wheels – created by not bolting back the rear subframe after removing the engine and gearbox. I fear that there may be some sheared off subframe bolts to deal with when the time comes to look at this car again… Oh and yes, the car is lop-sided. The chap I collected this MG from managed to cut the passenger-side Hydragas interconnection pipe with a trolley jack when he was salvaging parts. Sigh. |
| Three-quarter view from the rear. Nice soft top eh? Nasty tear in the plastic rear screen is no problem – and underneath all that orange lichen is a Mk1 soft top roof in surprisingly good condition. No dents on this side of the body work either, but the other hidden from view has quite a few. | Worst of the paint damage; it looks as though someone has attacked this car with acid or something similar at some point – the remainder of the paintwork remains in good condition – except where it has been scrapped off through parking incidents… |
| … as exemplified in this image. Yes, it looks as though a previous owner parked by using brail to 'feel' their way in and out of parking spots. Amazing given the diminutive size of the MGF. With the added 'seasoning' of sea salt (this car has spent its whole life near the sea – previously being in the channel islands before ending up in Hove, near Brighton), the car has spectacularly corroded in some areas – worst of which can be seen above. This appears so far to be limited to cosmetic areas rather than anywhere structural, but I won't know for sure until the strip down starts in earnest. | Small areas of corrosion elsewhere too – largely the result of paint damage by stones. Clearly this MG didn't have the most caring of owners. However, what hasn't been shown in these images is that the body appears to be largely straight (no evidence of previous major impact damage). Moreover, the car appears to be on its original Goodyear NCT3 tyres – which have been unavailable for some years, suggesting that the car hasn't run up a huge mileage in recent times and perhaps too that the running gear probably has not been worn out. But as mentioned in the text, this may be irrelevant if a suitable MG TF donor car can be found… |
Therefore when I spotted someone trying to off load an MGF for nothing, to clear the vendor's drive of what he regarded as being a pile of rubbish, I felt I had to act. That I had an absolute time limit of exactly one week before Christmas (2007) to collect said car – well, this really tends to focus the mind.

Money for nothin' and car's for free…
Why was the car free? Obviously there was a catch. In this case, this car – a 1997 MGF VVC in British Racing Green was missing a couple of parts. Actually, it was missing rather more than a couple – and all of them were pretty much essential. Like a steering wheel. Oh, and a steering column. The electrics were conspicuous by their absence: the whole wiring loom was removed, with the sole exception of the unwanted SRS airbag loom. There's no gear lever. No gear linkage. Oh, and no gearbox, or come to that, that collection of reciprocating masses of metal that burns petrol. And everything that was attached to that lump of aluminium alloy that all those aforementioned reciprocating bits were contained in was missing too – you know, alternators, inlet and exhaust manifolds, fuel system, and loads more stuff that could pad this article out to the size of a telephone directory.

Umm, so what was left? Little more than a bare shell and the car's suspension system (although the right side had collapsed; the vendor put his trolley jack in the wrong place and damaged one of the hydragas lines - oops). But that's okay; all the missing or damaged bits could be replaced with up-rated or lightened replacements – hopefully all obtained cheaply from a crashed donor car or second hand from various sources. And besides (it's good to have a "Plan B"), if the plan changes there are plenty of useful parts left on the car – including the majority of the ABS hardware and a few straight body panels. Well, I think that there's a body panel that does not have a dent or perforating rust…? Let's gloss over that – the red mist of 'bargain' car buying frenzy had descended, and we know that this is more optically challenging than even the most optimistic beer goggles, and gets worse in direct proportion to the cheapness of the vehicle in question.
A Christmas Story
So a week or so before Christmas, I needed to get an engineless, unsteerable MGF home. What to do? Fortunately the car was on the South Coast, so not a million miles from my North London home. Unfortunately I don't have a trailer or tow car. But I know a man that does. A quick call to Tim Woolcott – fellow MGF nutcase and some-time Caterham driver – was in order.
"Do you reckon an MGF could fit on your Caterham's trailer Tim?"
"Hmm, maybe. But we might need to change the wheels to get the car on – the Caterham's track isn't as wide as the MGF's," was the reply. "The spare wheels are narrower than the standard alloys – so if we change the wheels for the space-saving spares, we should be okay."

We were on. We had two spare wheels between us, and the MGF shell we were going to collect would donate a third. Let's hope we could bodge a solution with the fourth if it were going to be needed.

That was Thursday. A time was set for Saturday for collection.

Saturday dawned, a bright, dry but chilly winter's day. By the time we got down to the coast that evening, it was dark and bitterly cold – and the sea breeze off the English Channel wasn't helping any, cutting through outer garments and chilling us to the bone. But there was some good news that dark, breezy evening. It transpired that the MGF WOULD fit on the Caterham's transport trailer. Just. So, how wonderful, no buggering about with spare wheels. The bad news we only discovered on arrival was that not only was there no steering for the front wheels, the rear subframe wasn't even bolted to the body shell. The net result of this 'oversight' was that the rear wheels pointed in random directions like a supermarket trolley's castors as the vehicle was moved back and forth. Great. Four wheels, all of which wanted to steer in opposite directions. Two hours, plenty of cursing, some crushed fingers and plenty of heaving, and amazingly we had the MGF on the trailer.

Tim's trailer is rated at a maximum haulage weight of around 700kg. The unlaiden weight of an MGF is 1075kg. But deprived of an engine, gearbox and much of the interior including both seats, we're looking at a car that must weigh a good 250-300kg or more less than the standard weight. In luck. And so, to keep the homeward journey story short, a rather sorry looking MGF is now sat on my In-Law's front drive.
The cold light of day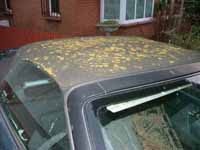 The top of the hood was in quite a state too - check out the lichen!!!
Sat in the cool morning light the day after the night before, the collected free (remember it's free and therefore must be a good thing – well that's what I'm telling myself and I'm keeping to it) MGF really isn't a pretty sight.

My three-year old daughter tells me that her granddad thinks that it a pile of rubbish. He actually isn't far wrong. It needs rather a lot of TLC. And a donor car full of parts (look at the pictures for a better feel of what I've ended up with).

Oh, and I can't quite shake off the feeling that the guy who I collected it from got the better deal – even if I haven't (yet) spend any money on it (at least, not so far, other than 15 quid on diesel). He bought it from a friend of his wife for 30 quid. For that he got the VVC engine and all the other bits he salvaged from the car – which, believe it or not, he plans to shoe-horn into a 'Classic' Rover Mini shell in the location usually reserved for rear passenger accomodation. Good luck to him! However, what I do know that it is going to cost me a lot more than 30 quid to nail all those missing bits back on again. Fear not – new-car 'honeymoon' optimism abounds – let these deficiencies be virtues! After all, the lack of functioning suspension reveals the opportunity of upgrading the chassis to TF specification – a challenge that ought to have great interest for many within the MGF-owning community…
What next?
Watch this space – the current plan is to create a car that is true to Rover Group's 'MGF Supersports' concept (pictured right - top - no windscreen and wild wheels, and below - an extreme interior, in white?!?) – a car that can be driven to the race circuit and be competitive. And then, hopefully, be driven home again.
But the plan is for that competitiveness to be derived from light weight rather than a strapping on a supercharger to Rover's 1.8 litre K-series engine (although, by some weird co-incidence, I do have a suitable supercharger and all the necessary fittings sitting in my garage).
Oh, and the other part of the plan is to try and do the whole thing for as little money as possible – and to photograph everything on the way. If I pull this off, you'll all be the first to know. Wish me luck; I think I'll need it!