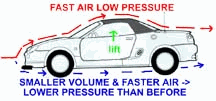 MGF and TF Rear Spoilers
Whilst there is little advantage to fitting a rear spoiler to an F, at least in countries with speed restrictions, many are keen on the aesthetic appeal of these items. Hence, a number of rear boot lid spoilers available to serve this market. Here are a selection of those boot lid spoilers currently available in the UK.
Figure 1: RoverSport boot lid spoiler

Superb quality moulding that looks fantastic on the rear of any MGF. Expensive as any Rover sourced accessory tends to be. Of the rear spoilers available to fit on your car, this is the only one that is accepted under current MGF Abingdon Trophy competition rules.

Figure 2: Mike Satur Aero Boot lid lip spoiler

From the prolific Mike Satur styling house, this has to be the most subtle rear spoiler that you can fit on your MGF. The quality moulding also holds the high level brake light.

Figure 3: Moss International Boot lid spoiler

Probably the biggest disappointment of all these spoilers- the styling is uninspired, and the quality of the glass fibre (of the examples that I have seen) fails to match the high standards of its competitors. But it is cheaper...

Figure 4: Mike Satur F-One boot lid spoiler

A very stylish rear spoiler from Mike Satur that never fails to gain favourable comment. Excellent quality. Surprisingly similar to the latter-on-the-market Rover item, only more so!

Figure 5: Motobuild boot lid spoiler

An excellent looking spoiler design. A cross between the Rover and the Mike Satur F-One rear spoiler.

Figure 6: Trophy 160 rear spoiler

Rather different spoiler to the standard MG Rover item: note the difference in the shape of the 'end plates' of the spoiler. Apparently the shape has been honed in the wind tunnel.

Figure 7: A TF rear boot lid assembly (on an MGF!) [Thanks to GC of Tyne & Wear for the picture]

A standard MG item, obviously! Not sure how much this would cost, but probably rather more than a spoiler alone. But the look is highly integrated. Nice!

Figure 8: MGF Centre TF rear spoiler

Appears related to the style pioneered by the Trophy 160 rear spoiler, this spoiler has been created to more closely follow the contour of the TF bootlid - it helps give quite a striking 'bi-plane' effect.