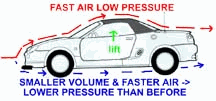 MGF Front Spoilers
Front spoilers have the potential to improve your MGF's road behaviour, and therefore is something that any enthusiastic MGF driver should consider. Here is a list of some of the options available:
Figure 1: KH Assemblies Splitter

Probably the most common aerodynamic aid fitted to the MGF. I have one, and was so impressed I left it on the car!

Pros: Very reasonable cost. Does not reduce ground clearance...

Cons: ...but does become troublesome with steep approach angles

Figure 2: Mike Satur Aero "Whisker spoilers"

A very subtle extensions of the standard front bumper styling. Its aerodynamic efficiency is unknown however.

Pros: Attractive and subtle styling

Cons: Possibly not as effective as the other aerodynamic aids listed here.

Figure 3: Mike Satur F-One Splitter (requires F-One front bumper to fit)

This splitter comes as a part of the F-One kit, and has to be fitted to the F-One front bumper, making it more expensive than the other options listed here.

Pros: Undoubtedly works, and has dramatic styling

Cons: Expensive, and that dramatic styling! Lower build height, and therefore reduced ground clearance and reduced approach angles to ramps. Extreme!

Figure 4: Mike Satur Front "Air dam" Spoiler, and below, its inspiration, the MIRA development car.

The inspiration for this spoiler is obvious- and given the provenance of this spoiler, I am confident that it will work a treat!

Pros: It works

Cons: Reduced ground clearance. Styling is not to everyone's taste.

Figure 5: Trophy/ Freestyle SE front splitter.

MG's response to the KH Assemblies splitter? Also available from Smith and Deakin.

Pros: Good looks, cheap (if purchased from Smith and Deakin), and it works

Cons: ... although perhaps may not be as effective as the KH Assembles spoiler.