Cylinder head following presumed head gasket failure
The following sequence of photographs show my old cylinder head, just after it was removed at Tech-speed to investigate and replace a presumed head gasket failure.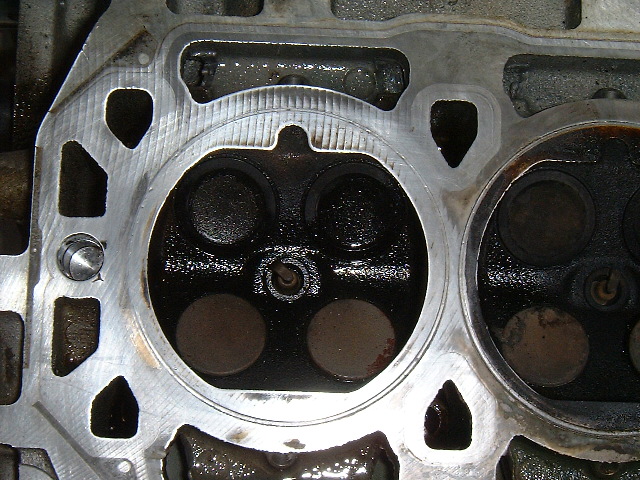 Picture above shows heavy indentation into the cylinder head by the liner - it is particularly deep around the lower quadrant of the image above, nearest the exhaust valves (the bottom two). Notice the difference in colour between the inlet and exhaust valves...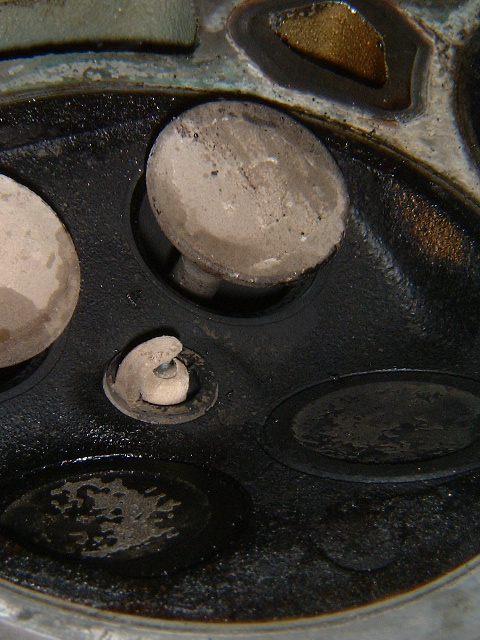 A close up of the spark plug as is protrudes into the combustion chamber - and of the exhaust valves (partially open). Note the colour - a pale brown. Note too the small crack evident on the spark plug ceramic insulator. Mixture is normal - and these appearances are fairly typical of a high mileage engine.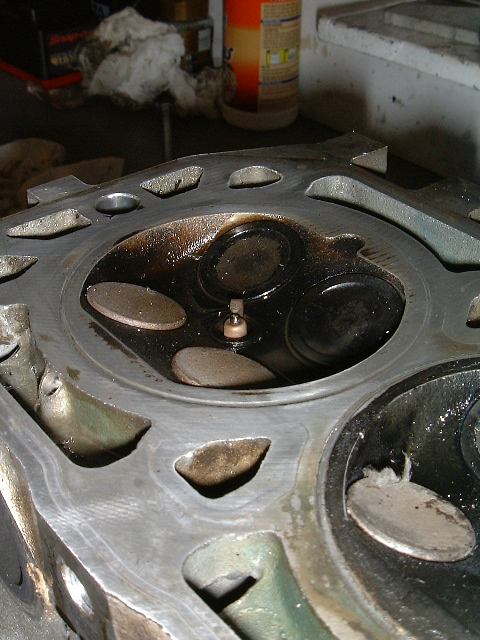 Another shot of the cylinder head, again showing the marked indentation of the cylinder head by the liners, the pale brown coloured spark plug and exhaust valves. Also note the side gap between the spark plug electrodes. Odd - electrode erosion? These spark plugs hadn't completed their full (supposed) 60k mile service life; these long-life plugs don't last as long as their makers would appear to claim. Replace at more frequent intervals (some even revert to standard-life spark plugs).

The presumed cause of the head gasket failure: the top hose had split (about 3/4 inch long) just after the end of the engine outlet stub. This had dumped much of the coolant in the engine all over the A303... I had managed a temporary repair by cutting the hose slightly short, and moving this split under the jubilee clip. But clearly, this was not enough to save the cylinder head. But this could be a chicken and egg situation; could the failure of the coolant hose be secondary to another problem - and therefore a symptom rather than the cause of the gasket and cylinder head failure encountered?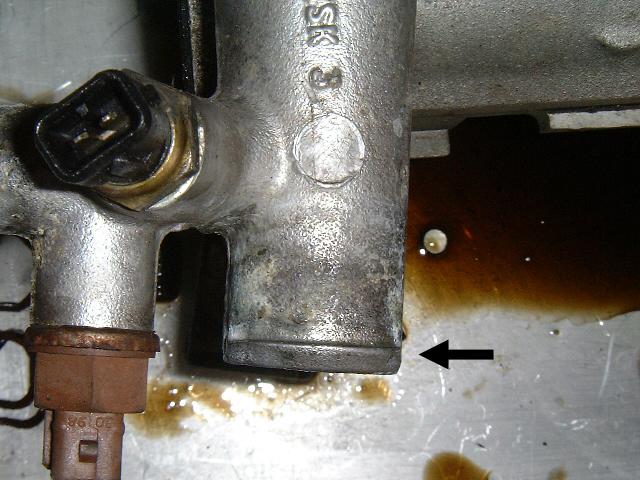 One of the problems I had had of late was with the top hose leaking slightly: it was very difficult to ensure that this was water tight - or indeed to ensure that air didn't get in. The above picture (compare it to the image below) provides some clues: the flange on the alloy stub pipe is not circumfential; there is no lip on the edges of the flange - and it appears that the stub pipe was cast this way. Now have a look at the picture below...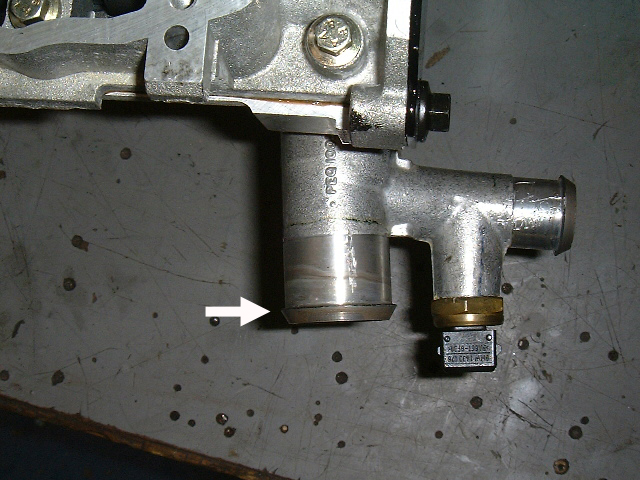 The 'Mk2' stub pipe - with a steel insert with a full flange around the whole perimeter of the pipe. A redesign to tackle a known problem of water leakage perhaps? And is it a solution to the mystery of the weeping top hose?