The TF in more detail:
Thanks to Roger with these new show room images of the TF, demonstrating some fascinating features of the new car.
Interior:

As previously mentioned, the TF interior has not been altered significantly over the already extensively re-furbished MY2000 MGF. Subtle differences are present however, especially in the details. Notice that the background to the heater controls is now black, not silver; the type face on the instruments have changed and new materials are present- particularly the alcantara trim inserts and carbon fibre inlays on the door pods and centre console.

TF interior. Click to enlarge.

Structure:

Extremely obvious on opening the boot are the new brace work spanning the engine compartment. In this picture, peering through the engine compartment grille in the boot, the brace is evident. Other bracing is present in the car, but without disassembling this showroom car, it is difficult to demonstrate!!!

TF rear strut brace. Click to enlarge.

Rear Suspension:

Here is the first view I've seen of the TF's new multi-link suspension system. Unfortunately, the details of the new links used in this set up are not obvious from this view- that would require removal of the road wheel or raising the car on a ramp… again not exactly practical propositions on a car on display in a dealership showroom!

TF rear suspension. Click to enlarge.
Front suspension:
Whilst the front suspension is essentially the same as that found on the MGF, the images below demonstrate the differences between the MGF Trophy 160 front damper mount and the new damper mount in the TF. Differences in the detail here clearly hint at extensive strengthening changes to the suspension turrets required for a more conventional coil-over damper suspension design.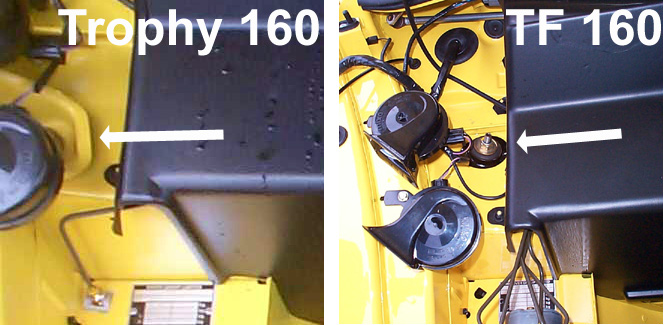 MGF Trophy 160 front suspension turret compared to that found on the TF. View taken through the open bonnet. White arrow shows where the dampers mount on the body work structure. The TF front damper mount appears to be more heavily engineered, and perhaps significantly for geometry, is mounted in-board of the older set up.